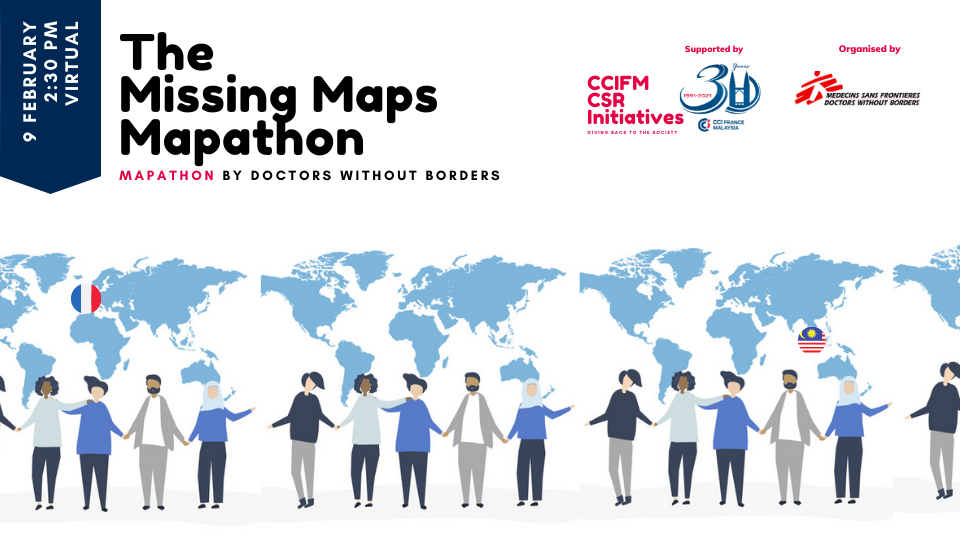 Doctors Without Borders/Médecins Sans Frontières (MSF) works in the world's most vulnerable places, bringing much-needed healthcare to victims of crises. Many of these areas are 'missing' from digital maps. By digitizing satellite imagery, volunteer mappers can help to create maps that significantly help its humanitarian medical activities.
A mapathon is an amazing opportunity for digital volunteerism. Participants digitally connect and map the most vulnerable places in the developing world so that local and international Non-Governmental Organisations (NGOs) like MSF can use these maps and data to better respond to crises affecting areas that are affected by natural disasters, disease outbreaks, epidemics, or conflicts. The maps you create will be available to use by everyone, everywhere, benefiting non-governmental organizations (NGOs) like MSF.
By supporting the Missing Maps Mapathon with your time, you can directly contribute to MSF's humanitarian medical activities. With your help, we can help build a detailed and useful map of the world that would allow us to access patients quicker, track diseases more effectively and better understand where the needs of the people are greatest following an emergency.

What do the volunteer mappers need to prepare?
A laptop

A mouse

Wifi connection

Enthusiasm

Date : Wednesday, 9 February 2022
Time : 14h30 - 16h30
Price : Free of charge for CCIFM Members

Corporates could partner with MSF to organise their own Mapathons for their staff. This will promote the CSR activities as well as staff engagement, enabling them to contribute and helping put vulnerable people on the maps even during this pandemic.
A link for you to access the webinar will be shared with you prior to the event once we have received your registration.
About Doctors Without Borders/Médicins Sans Frontièrs (MSF)
Médecins Sans Frontières (MSF) is an international medical humanitarian aid organisation that was founded in 1971. MSF's actions are guided by medical ethics and the principles of neutrality and impartiality which means that the assistance MSF provides to people is based purely only on need; irrespective of ethnicity, religion, gender, and political affiliation or social group membership.
MSF was awarded the Nobel Peace Prize in 1999 in acknowledgement of its impact, independence, and impartiality in the delivery of humanitarian aid. MSF strives hard to perform to maximum efficiency and to keep administrative expenses low. With 81% of the funding raised being sent directly to the frontline to provide humanitarian relief; supporters can rest assured knowing that their contributions are spent directly in service to populations in distress.
More information: