The Chamber • Publications
Memorandum of Understanding with SARAWAK BUSINESS FEDERATION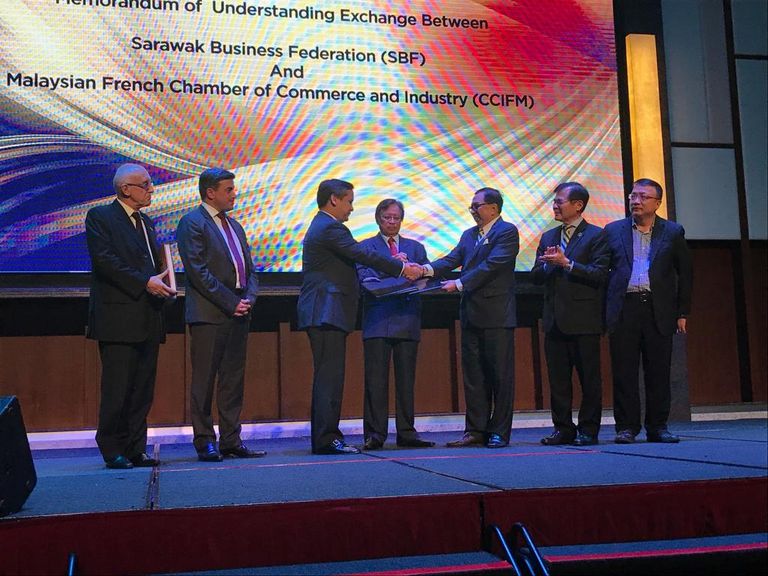 As part of its regional development action program, CCI France Malaysia signed a Memorandum of Understanding (MOU) with the Sarawak Business Federation, the coordinating body of the various Chambers of Commerce in Sarawak that represents the Chinese, Malay and Dayak Business communities on Friday, 23 November 2018.
This took place during the 67th Annual Dinner of the Sarawak Chamber of Commerce and Industry at Hotel Imperial Kuching with YAB Datuk Patinggi Abang Haji Abdul Rahman Zohari bin Tun Datuk Abang Haji Openg, the Chief Minister of Sarawak witnessing the signing between YBhg Datuk Abang Haji Abdul Karim bin Tun Datuk Abang Haji Openg, the president of the Sarawak Business Federation and Alexis Wan Ullok, Director of the Board and representative of CCI France Malaysia for Sarawak.
As part of this agreement on the promotion of activities of the respective member base of both organizations, a working committee has been set up to provide practical support and promotion to member companies, incidentally, and in a similar way as done recently for the State of Johor, a delegation of companies from Sarawak will be planned to do a roadshow France with the support of CCI France Malaysia
While the French business presence in Sarawak is so far limited to the Oil & Gas and Tourism sectors, more French companies already present in West Malaysia are now looking east and this new milestone for CCI France Malaysia in line with similar development and action taken in Johor Baru, Kota Kinabalu, Penang and just recently in Langkawi, where regular gatherings are held with the Local Malaysian French business communities.