Dialogue Session between Minister of Home Affairs and International Chambers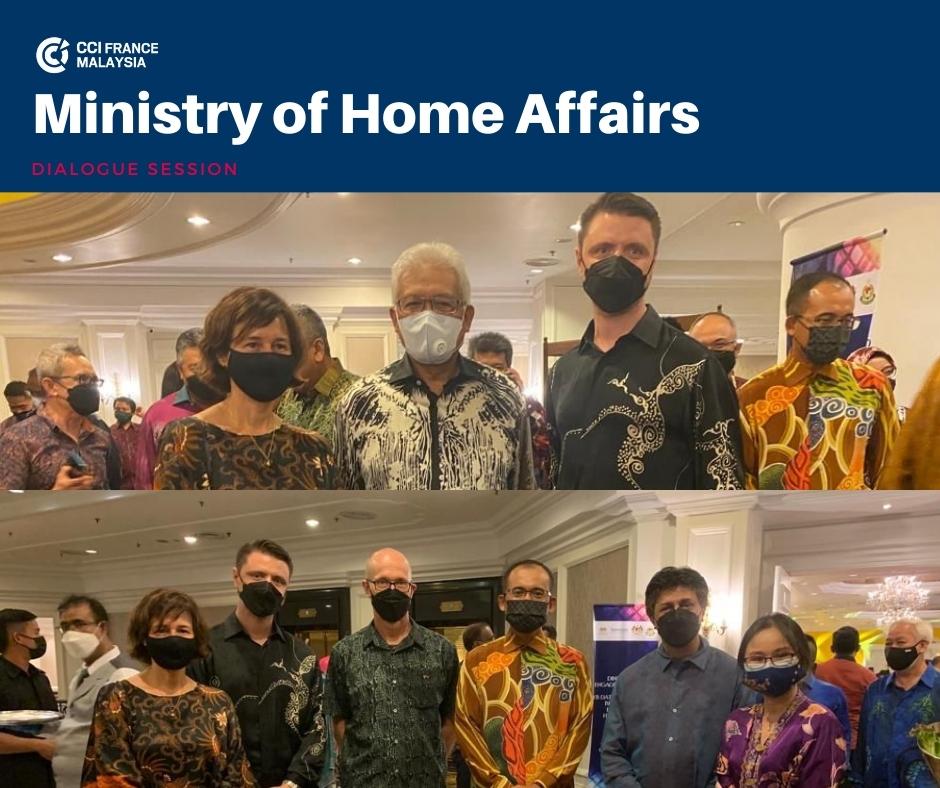 The CCIFM represented by its Board Director, Mr Aurelien ROUVREAU, and Business Support Services Manager, Ms Christelle DIDESCH, participated in an event on Thursday 9 December at the Dinner and engagement session by invitation of the Minister of Home Affairs, YB Dato' Seri Hamzah Bin Zainudin, together with Dato' Indera Khairul Dzaimee Bin Daud, Director-General of the Immigration Department, in company of 21 International Chambers of Commerce & Industry.

This dialogue was arranged after the Minister has officiated the opening of the ESD Satellite Centre (ESC) on November 30, an improvement in services for expatriates and investors, allowing to speed up and ease doing business in Malaysia.
In his opening speech, the Honorable Minister has stated that he is open to work and engage with the chambers. The Chambers have communicated on various topics, including the importance of talent mobility especially at this time of recovery, and the conditions of work permits for expatriates. YB Dato' Seri Hamzah Bin Zainudin said that the ministry was conducting a comprehensive and holistic study involving expatriates, including expatriate positions, to meet the need for the transfer of expertise and technology into the country.

YB Dato' Seri Hamzah Bin Zainudin also mentioned that there are about 180,000 refugees in Malaysia. Companies can discuss with the Immigration Department to employ them under the labor re-calibration or rehiring programs, with the aim of giving opportunities for undocumented immigrants working in Malaysia to cater to manpower needs in permitted sectors.
All illegal immigrants and employers who want to participate in these programs are welcome to do so, and can deal directly with the Immigration Department.

However, he has reiterated several times during the evening that he is totally against employing foreign illegal workers.

YB Dato' Seri Hamzah Bin Zainudin said this after he highlighted the downgrade of Malaysia to the worst tier in the United States' annual Trafficking in Persons (TiP) report. The downgrade in July came after complaints by rights groups and US authorities over alleged exploitation of migrant workers.