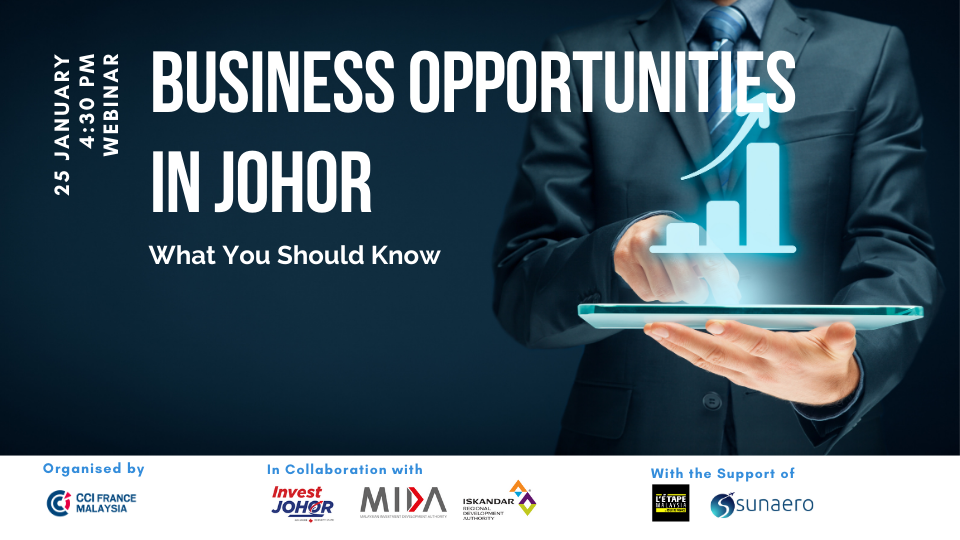 Johor, also known as the "Southern Gateway of Malaysia", has grown tremendously economically over the past several years.

The development is attributed to the growing industrialization and diversification of its economic base. Stability, competitiveness and highly conducive business environment have positioned the state as one of the best investment destinations in the Southeast Asia Region.

The webinar will highlight the business opportunities available in the state and the incentives offered to foreign investors.

Join us to understand the business ecosystem in Johor and get in touch with the key agencies in Johor that can kickstart the growth and expansion of your business in 2021

Program
4:30 pm Welcome remarks by Michel Lozach, Managing Director, CCIFM
4:40 pm Opening remarks by YB Datuk Mohd Izhar bin Ahmad, Johor State Executive Council and The Chairman of the Investment, Entrepreneur, Cooperative and Human Resource
4:50 pm Investment Opportunities in Johor by En. Mohd Masni Wakiman, Chief Executive, Invest Johor
5:05 pm Iskandar Malaysia Investment Opportunities Mr. Engku Kamel, IRDA
5:20 pm Government Support and Facilitation by Mr. Shahzul Jayawirawan, MIDA
5:35 pm Presentation on The Étape Malaysia by Tour De France by Dato' Haji Noorazam, Kumpulan Prasarana Rakyat Johor & Mohammad Riduwan, Muse Group Asia
5:45 pm Testimonial from French Companies based in Johor
- Technip/ Asiaflex
- Sunaero
- APAC (Aviation Partner and Consulting)
6:05 pm Q&A Session
6:25 pm Closing remarks by Michel Lozach, Managing Director, CCIFM
6:30 pm End of Webinar
Speakers
Michel Lozach, Managing Director, CCIFM

Michel Lozach is a graduate from the Paris Business School and has been the Managing Director of CCI France Malaysia Bhd since April 2000. He came to Malaysia in 1982. Prior to this, Michel worked in several different business sectors ranging from hospitality to manufacturing.
His diverse experience has given him the opportunity to visit all areas of Malaysia and gather an extensive knowledge of the Malaysian French Business Community.
More
YB Datuk Mohd Izhar bin Ahmad, Johor State Executive Council and The Chairman of the Investment, Entrepreneur, Cooperative and Human Resource

YB Datuk Mohd Izhar is a native of Johor who was born in Johor Bahru in October 1957. He has an academic degree in finance and has extensive experience in the domestic and international corporate banking sector.

YB Datuk Mohd Izhar has a vision to restore the socio-economic stability of the state of Johor and further drive the economic development and human capital of the state to a glorious level.
More
Mohd Masni bin Wakiman, Chief Executive, Invest Johor

En Masni hold a Bachelor of Economic (Honors), University of Malaya (1998) and has been in service for over 20 Years in the State of Johor Civil Services and bring a vast amount of expirience in assiting foreign investor and knowlege on Johor.
More
Engku Ahmad Kamel, Director, Economic Prosperity, Iskandar Regional Development Authority (IRDA)

Engku Kamel joined IRDA in February 2010 as Head of the Corporate Performance Management Division, which oversees the Corporate Planning and Programme Management Office functions. In his current capacity as Director, Lead Key Results Area for Economic Prosperity, he oversees the development of the nine promoted economic sectors and their ecosystem, the formulation and packaging of incentives, as well as business intelligence. More
Mr. Shahzul Jayawirawan Mohd Yunus, Director MIDA Johor, Malaysian Investment Development Authority (MIDA)

Mr Shahzul Jayawirawan Mohd Yunus joined the Malaysian Investment Development Authority (MIDA) in 2003 as Assistant Director of Transport and Metal Industry Division where he gained knowledge and experience on the industries.

Throughout his career for more than 17 years, MIDA has provided him the opportunity to be part of the country's industrial and services development.More
Dato' Haji Mohd Noorazam Bin Dato' Haji Osman, CEO, Kumpulan Prasarana Rakyat Johor Sdn Bhd - KPRJ
Dato Haji Mohd Noorazam graduated with a Bachelor of Arts (Hons) Government and Public Policy from Northumbria University, New Castle Upon Tyne, United Kingdom in 1990.

He is primarily responsible for the development of sports in Johor and main organizer for SUKMA Johor 2020.More
Mohammad Riduwan Bin Matni, CEO, Muse Group Asia

Has dedicated over 25 years in the sports industry with extensive experience in broadcasting, event management, sponsorship, marketing consultancy and intellectual property development

Founder and CEO (Malaysia/Singapore) of Muse Group Asia with office in Singapore, Kuala Lumpur and Bangkok. Muse Group is one of the biggest sports marketing agencies in Southeast Asia with in curating marketing solutions around sports. More
Seats are limited, please register now.
Date : Monday, 25th January 2021
Time : 4:30pm – 6:30pm (GMT+8)
Price : Free of Charge