Turning a Setback into A Comeback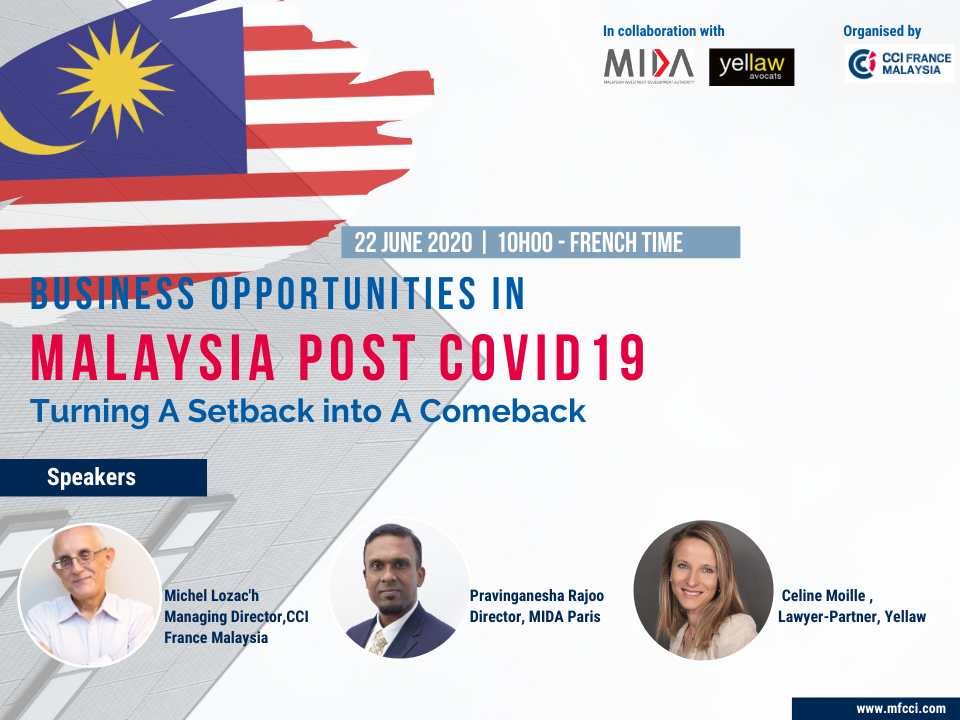 Monday, 22 June 2020 10h00 French Times | Webinar

2020 has been a challenging year for all of us, as the world woke to the COVID-19 pandemic. Its time to kickstart our businesses and we invite you for a webinar on the opportunities available in Malaysia for you to stimulate and grow your business

Malaysia is currently ranked 12th out of the 190 counties in the World Bank's Ease of Doing Business Report 2020. This is a testimonial of a balance and dynamic ecosystem that is in place with regard to doing business. Among others, Malaysia offered a strong and stable infrastructure, a pro-business government, a diverse multilingual, multicultural talent, competitive cost of doing business, and acts as a stable Asia Pacific Hub for your business.

Join us and learn more on :

Attractiveness of Malaysia
- Malaysia business-friendly government policies
- Competitive cost of doing business
- A diverse multilingual, multicultural talent pool
- Supply chain dislocation that gives Malaysia a well-developed infrastructure
- Short term measures that are undertaken by the Malaysian government to boost the local economy
- Incentives that are available for current and future investors.

Company Set-Up & Business Acceleration Support
- Drafting of contracts, applicable law, creation of local companies, distribution networks, legal environment

Speakers

Mr. Michel Lozac'h, Managing Director, CCI France Malaysia
Michel is a graduate from the CCI of Paris Business School and since April 2000 the Managing Director of CCI France Malaysia. He was from 1996 to 2000, the Deputy CEO of WEAR SAFE MALAYSIA Sdn Bhd, a French SME Manufacturing Medical gloves for the European market and prior to that from 1992 to 1995, the French desk manager for AGF Malaysia to support the establishment of French SME's in Malaysia. Michel made his first assignment to Malaysia in 1982 as Admin manager for Holiday Villages of Malaysia, to work on the set up of the first CLUB MED resort in Asia at that time. His diverse experience has given him the opportunity to visit all areas of Malaysia and gather an extensive knowledge of the Malaysian French Business Community.

Mr. Pravinganesha Rajoo, Director, MIDA Paris
A Master of Business Administration (MBA) graduate from the University Utara Malaysia (UUM) Pravin joined the Malaysian Investment Development Authority (MIDA) in 2007 as an Assistant Director in the Electronics and Electrical Industry Division. He was posted to Australia to be part of MIDA's team in Sydney (2013-2016) and subsequently posted France to head MIDA's Paris office (2019-current) to promote and drive foreign direct investments from France, Spain, Portugal and Monaco into Malaysia.

Céline Moille, Lawyer and Partner at International Law Firm YELLAW
Céline is also has a Ph.D. in private international law, She is today at the heart of her firm's FinTech Department. For many years, Céline has also been a lecturer at the University of Lyon. Convinced that LegalTech is the best way to bring legal support to corporations, Céline was one of the founding members of Dodo Bank in 2017 and Mon Cher Maître in 2020.

Date : Monday, 22 June 2020
Time : 10h00

Program
10h00 Welcome address by Michel Lozach, Managing Director of CCIFM
10h05 Presentation by Mr. Pravinganesha Rajoo, Director, MIDA Paris
10h25 Presentation by Céline Moille, Lawyer & Partner at YELLAW
10h40 Presentation by Michel Lozach, Managing Director of CCIFM
10h50 Question and Answer Session
11h00 End of Webinar

A link for you to access the webinar will be shared with you prior to the event once we have received your registration.