Volunteer for the coastal clean-up day at pantai remis to raise awareness about the growing pollution on various beaches.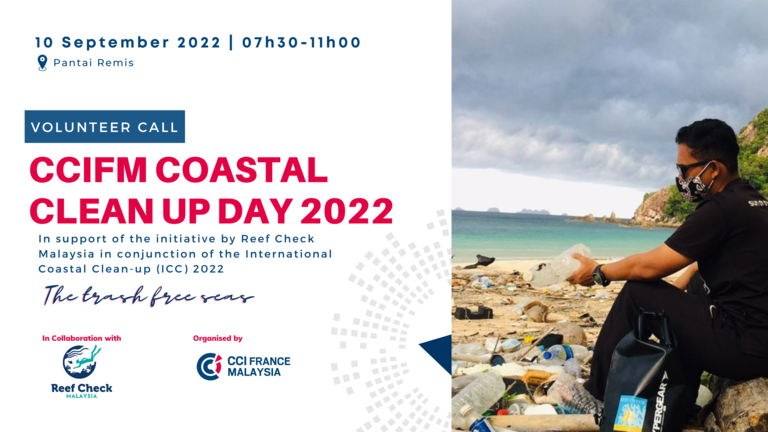 JOIN OUR INITIATIVE AND VOLUNTEER FOR THE COASTAL CLEAN UP DAY 2022 AT PANTAI REMIS
"To raise awareness about the growing pollution on various beaches of the world".
CCIFM is proudly supporting the initiative of Reef Check Malaysia in coordinating beach clean-up across Malaysia in conjunction with the International Coastal Clean-up Day. The oceans make up over 70% of our planet and it is severely impacted by the high levels of pollution.

Our rubbish is killing thousands of marine animals, destroying coral reefs and impacting the daily life of inhabitants living along the coast. Floating rubbish ends in coastal areas, destroying the ecosystem and jeopardizing the livelihood and living conditions among the poorest. Therefore, beach clean-ups are vital to mitigate the problem caused by ocean debris and the danger that plastic pollution poses to marine life, the planet and humans.
ACT NOW & BE PART OF THE CHANGE!
We call all the members to volunteer and join us to clean a beach for a better future.
You can help:-
• Raise awareness on the severity of marine debris
• Your action will create reliable statistics to lobby for a change in recycling and waste management systems by Reef Check Malaysia.
International Coastal Clean-up Day is a promise to bring cleanliness and purity to nature as a whole. Founded by Linda Maraniss and Kathy O'Hara, more than 30 years ago, both of whom worked at the Ocean Conservancy, a nonprofit environmental agency.
Reef Check Malaysia is an NGO working towards sustainable management of coral reefs in Malaysia. https://www.reefcheck.org.my/
This is part of CCIFM's CSR initiative to give back to society and safeguard the environment.

Date : Saturday, 10 September 2022
Time : 07h30 – 10h30
Price : Free of Charge
Venue : Jalan Pantai Remis, Kampung Dungun, 45800 Jeram, Selangor

Program
07h30 Meet at the beach using your own Transportation
(exact meeting point will be provided later)
07h45 Briefing to volunteers and distribution of trash bags and gloves
08h00 Start Beach clean-up
10h00 Volunteers to bring all trash collected to the starting point
10h15 Record and weigh the amount of trash collected on the beach
11h00 Garbage truck to collect trash & End of Clean Up