Want to expand your business France? Join us @ Halal Industry Chat at HALFEST JUNE 2019 at MIECC!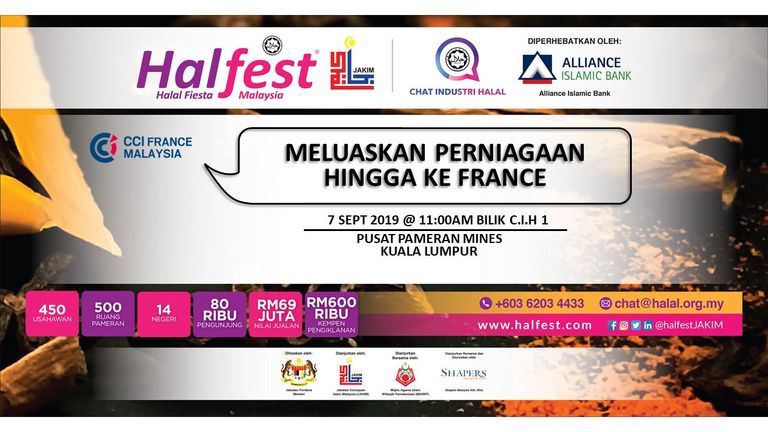 Chat Industri Halal Bersama CCI France Malaysia di Halfest JAKIM
When : Saturday, 7th September 2018 from 11:00 AM – 11:45 AM
Where : Mines International Exhibition & Convention Centre

Limited seats are available, reserve your seat today – REGISTER NOW

What is Halalfest?

Halalfest is the largest Halal Food and Beverage Expo in Malaysia.
The 8th edition HALFEST JAKIM is HOSTED by the PRIME MINISTER'S DEPARTMENT with JAKIM and the FEDERAL TERRITORIES ISLAMIC RELIGIOUS COUNCIL (MAIWP) as the joint organisers.
Join the event and explore the dynamic opportunities that HALFEST JAKIM has to offer in strengthening consumers' confidence toward your JAKIM HALAL CERTIFIED PRODUCTS & SERVICES. You will be engaging with over 80,000 visitors visiting our 520 booths offering unique never-seen-before Halal products and services from all over Malaysia more…