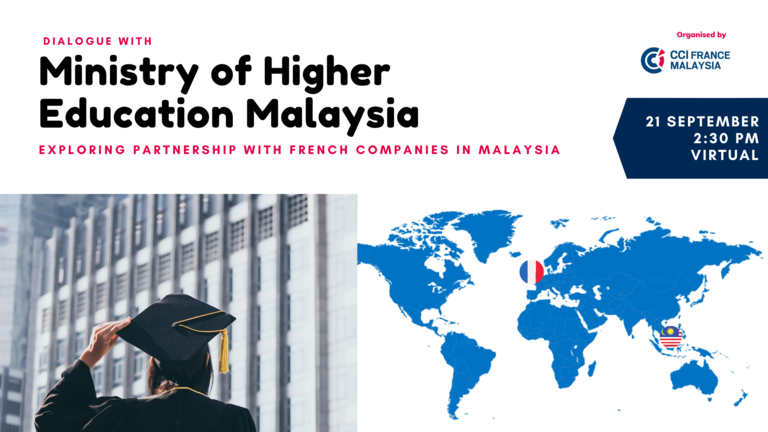 We are pleased to invite CCIFM members for a dialogue session with the Minister of Higher Education Malaysia (MOHE) to explore partnerships to meet your human resource needs. Companies will be introduced to 2 key programs
PENJANA KPT – CAP (Career Advancement Programme)
The program is an initiative by the Ministry of Higher Education (Kementerian Pengajian Tinggi-KPT) under the National Economic Reform Plan (PENJANA). The program is designed to increase the marketability of Malaysian graduates in line with industry demand.

Preparing Industry-Ready Talents
The presentation lays out the opportunities for industrial training placement for students in polytechnics and community colleges.
The dialogue session does not only introduce the programs available under MOHE but also engages with companies to better understand their HR needs.

Who Should Attend?
CEOs, Managing Directors, General Managers, HR Directors, HR Managers, CHROs.
Join us to give your feedback and contribute to Malaysia's talent development program.
Date : Tuesday, 21 September 2021
Time : 2:30 pm – 3:30 pm
Price : Free of Charge for CCIFM Members ONLY
Program :

2:30 PM Introduction
- YBhg. Datuk Seri Dr. Mazlan Yusoff, Secretary-General, Ministry of Higher Education (MOHE)
-Welcome note by Mr. Michel Lozach, Managing Director, CCI France Malaysia

2:45 PM Presentation
KPT-Career Advancement Programme (KPT-CAP)
Presenter: Mr. Mohd Sharil Abdullah, Director of Industrial Collaboration and Community Division, Department of Higher Education (DOHE)
Preparing Industry-Ready Talents
Presenter: Ms. Yusma Yusof, Director of Representative from the Department of Polytechnic and Community College Education (DPCCE)

3:05 PM Discussion in Q&A format
Potential areas of collaboration between MOHE & French industries.
3:30 Closing Remarks & The End
A link for you to access the webinar will be shared with you prior to the event once we have received your registration.