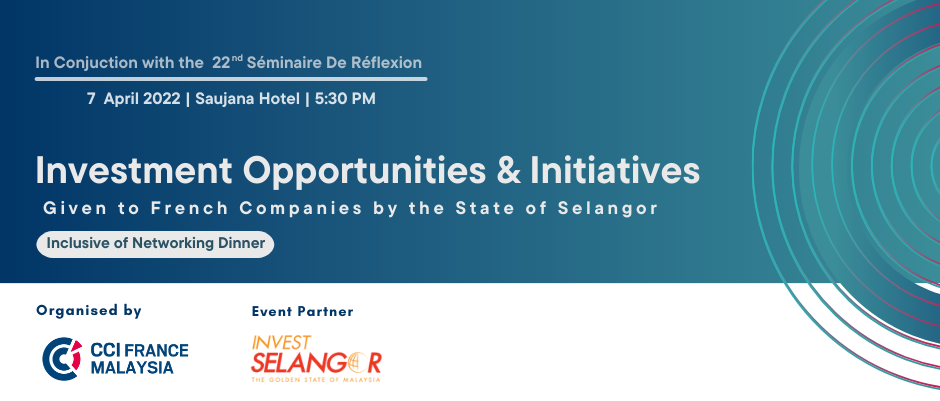 We invite you to join a session with the State of Selangor and Invest Selangor for an update on the investment opportunity available in Selangor for French companies. Selangor is a prime investment location in Malaysia and an ideal gateway to ASEAN markets.
Key facts on Selangor :
| RM 344.5 bil GDP (2019) | 6.7 % GDP Growth (2019)
| 24.3 % Share of National GDP (2020) | RM 18.4 bil Manufacturing Investment Value (2020)
| 324 Manufacturing Projects (2020) | 19,950 Employment opportunities (2020)
Date Thursday, 7 April 2022
Time 5:30 PM - 9:00 PM
Venue Saujana Hotel, Jalan Lapangan Terbang Subang, Saujana,40150 Shah Alam,
Selangor

Price Patron & Sponsor : Free of Charge-2 pax
Member : RM 150 per pax
Non Member : RM 230 per pax
Program
5:30 PM
Dialogue with The Honourable Dato' Teng Chang Khim, Selangor State Executive Councillor for Industry and Trade
6:05 PM
Investment opportunities & initiatives for French companies in Selangor
Presentation Dato' Hasan Azhari Bin Hj. Idris Chief Executive Officer, Invest Selangor
Testimonials from French companies based in the Selangor
19h30 Networking Dinner

*This event is part of the Séminaire De Réflexion 2022. If you have register for Séminaire De Réflexion 2022 no separate registration is required.