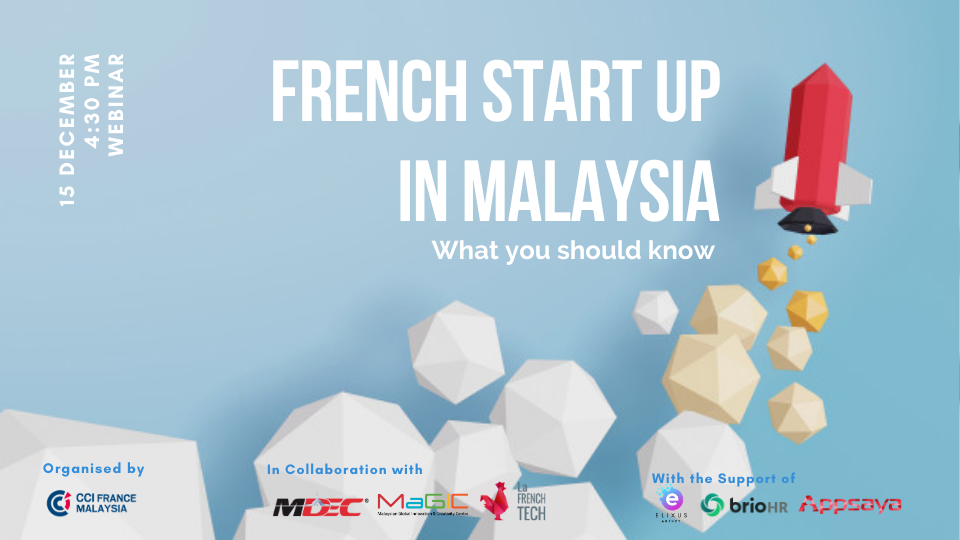 Are you a Start-Up and you are not sure how to conquer Asia? Where to start? What help you can get from French and local agencies and networks?

Join us to hear more about why Malaysia is your best gateway to Southeast Asia, and hear the firsthand experience from entrepreneurs who have done it!

Who Should Attend?
Founders/ Entrepreneurs of both Tech and Non-Tech Start-Ups
Aspiring Start-Ups
Companies interested to expand their business to Asia (including non-Start-Ups)
Date : Tuesday, 15 December 2020
Time : 4.30 pm – 5.45 pm (KL time), 9.30am – 10.45am (Paris time)
Price : Free of Charge

Program
4:30 PM
Welcome note by Mr Michel Lozach, Managing Director, CCIFM

4:35 PM
Malaysian Digital Landscape by Mr Sivavenayakam Velayutham, Senior Manager Business Development, Malaysia Digital Economy Corporation -MDEC

4:40 PM
My StartUp Hub 2020, soft-landing programme for global startups to establish a business hub in Malaysia by Mr Mohamed Yusnee Rahmat Mohd Yusof, Senior Manager,ASEAN Centre of Entrepreneurship (ACE), MaGIC

4:45 PM
French Start-Up in Malaysia by Yoann Gueguen, French Tech Malaysia

4:50 PM
Success Stories & Sharing of Know-How by French Start-Up in Malaysia
Meet Benjamin Croc, Founder of Brior HR - an all-in-one cloud-based HR management software
Meet Cyril Dhenaut, Founder of Elixus - a regional digital marketing agency
Meet Mamadou Ndiaye, Founder of Appsaya - a business matching & networking platforms for B2B events & online meetings.
5:20 PM
Question and Answer Session

5.45 PM
Conclusion and End of Webinar

Don't miss this opportunity to capitalize on a new venture and grow your business in 2021!



A link for you to access the webinar will be shared with you prior to the event once we have received your registration.