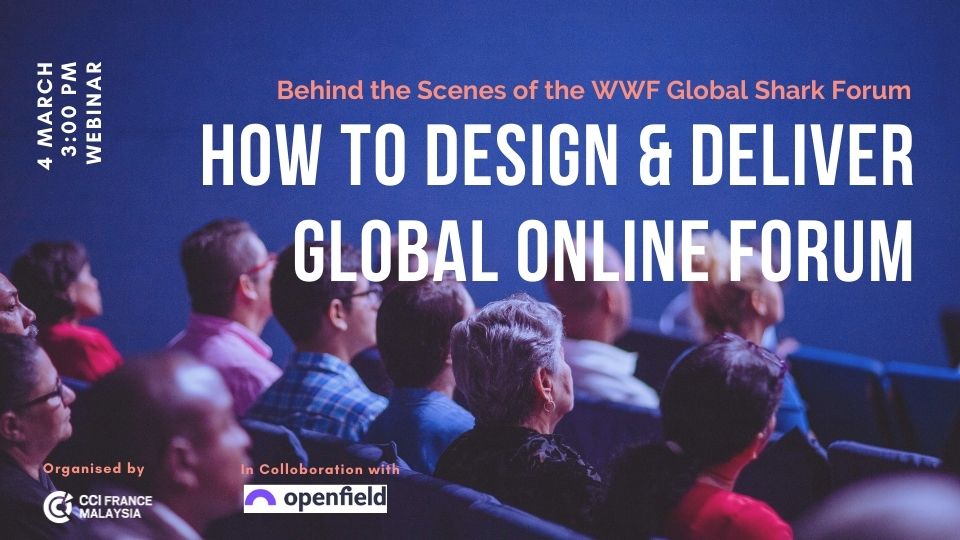 Dear members & friends,
CCIFM is collaborating with its member, Openfield to bring you fun and interactive webinar.

Join us and learn about the design and delivery of large-scale content-rich digital events in service of business strategy and priorities.

CCIFM member Openfield is a collective of senior practitioners specialised in multi-stakeholder collaboration and systemic transformation. In this open session you can learn from their story of how they co-designed and facilitated a 7-day global online forum for the Sharks and Rays conservation team at WWF. WWF Global Shark Forum had over 200 attendees scattered across the planet, the talk focus on:
the co-design process

the final event design

the digital tools used

the participant's experience

the short, medium and long term business benefits
It will be an interactive session with a short presentation followed by a conversation with the group about the challenges and best practices in large scale online events. Don't miss this opportunity to gain knowledge and compare experiences from experts in the field.

Who Should Attend:
Leaders and managers in charge of delivering complex outcomes requiring collaboration from multiple stakeholders.

Senior designers, facilitators and consultants in charge of supporting their clients in delivering such outcomes.
Please register now to reserve your spot.
Date : Thursday, 4th March 2021
Time : 15h00 - 16h00
Fees :
Patron & Sponsors - Free of Charge
Members - Free of Charge
A link for you to access the webinar will be shared with you prior to the event once we have received your registration.
Speaker
Philippe Coullomb is a seasoned global facilitator and management consultant with more than 20 years' experience. As co-founder of Openfield, he consults on collaboration, innovation and transformation to help leaders and executives deliver on their boldest ambitions from vision to execution. He authored Collaboration by Design, a book about the theory and practice of multi-stakeholder collaboration and complex decision making and regularly gives lectures and bespoke training around the world.