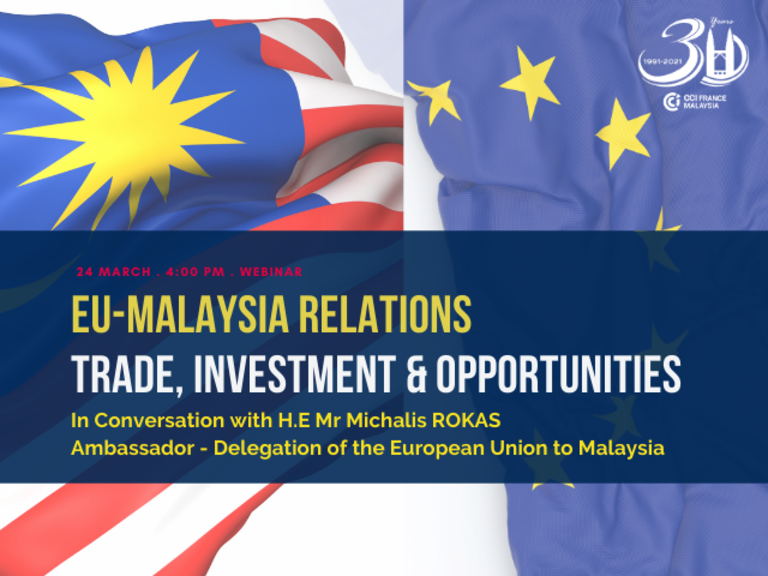 We are pleased to invite you to this webinar with the current Ambassador & Head of the EU Delegation to Malaysia.
Join us and understand better the vision of the Ambassador and the part that the EU Delegation play when it comes to the bilateral relations between the EU & Malaysia His Excellency will also brief us on the role of French companies within the EU context.
About H.E Mr Michalis Rokas
Michalis Rokas is the Ambassador & Head of the EU Delegation to Malaysia. He has over 26 years of experience in Foreign Affairs, having joined the European Commission External Relations Directorate General in 1994. Prior to his assignment to Malaysia, he was the Head of the Support to Delegations Division at the European External Action Service (EEAS). From 2016 to April 2017, he worked briefly as an advisor to the Director-General on Budget and Administration at the EEAS.
From January 2012 to September 2016, he served as Chargé d' Affaires a.i. and Head of EU Delegation to New Zealand. Prior to the diplomatic posting in New Zealand, he served initially as Deputy, and then Head of China, Hong Kong, Macao, Taiwan and Mongolia Division at the EEAS. From 2002 to 2006, he was the Deputy Head of the European Commission's Office in Hong Kong and Macau and the Head of the Trade and Economic Section.
Michalis Rokas holds a Bachelor's Degree in Economics from the National University of Economics in Athens and a postgraduate degree in European Economics from the Free University of Brussels (ULB).
Date : Wednesday, 24 March 2020
Time : 4:00 PM - 5:00 PM
Price : Free of Charge
Program :
4:00 PM
Welcome note by Mr Gilles Waeldin, President CCI France Malaysia
4:05 PM
Keynote Adress by H.E Michalis Rokas
4:30 PM
Question & Answer Session moderated by Datuk Zainal Amanshah - CCIFM Chairman & Mr Gilles Waeldin - CCIFM President
4:55 PM
Conclusion by Datuk Zainal Amanshah - CCIFM Chairman
5:00 PM
End of Webinar
A link for you to access the webinar will be shared with you prior to the event once we have received your registration.