Receive tips and tricks from seasoned dispute resolution lawyers on how to avoid an escalation.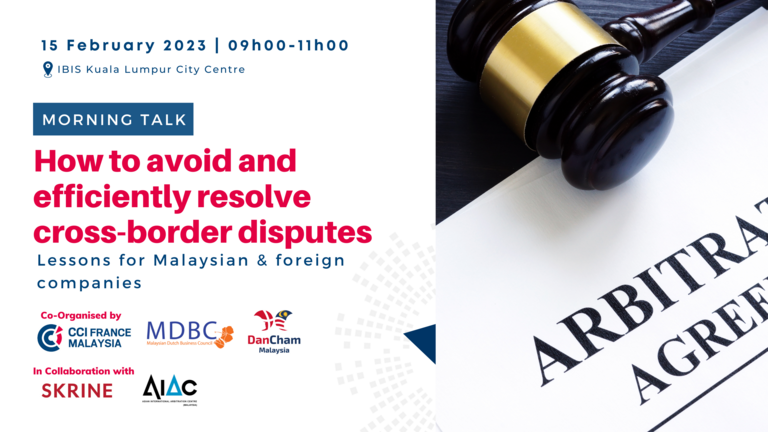 Whether we like it or not, disputes form part of business life and if you and your company haven't yet been involved in a dispute, you certainly know someone who has.

Putting your head in the sand is not a good strategy – you need to learn how to steer around disputes and when there is no possibility to avoid them, how to resolve them efficiently.
In an international context, the most common mechanism for international disputes is arbitration, not court litigation. While it is intended to be a mechanism for businesses, many companies run into pitfalls: drafting unworkable arbitration agreements, not thinking through the financing of the process, spending too much money and running into delays – these are just some of the problems to avoid.
The mistakes companies make in international arbitration often cost them dearly and result in huge losses, unenforceable awards, or even awards, which get set aside by courts.
Join Skrine on this Morning Talk to receive tips and tricks from seasoned dispute resolution lawyers on how to avoid an escalation and discover the do's and don'ts of international arbitration to gain the upper hand in the next difference or dispute you cannot avoid.

Date : Wednesday, 15 February 2023
Time : 09h00 – 11h00
Venue : IBIS Kuala Lumpur City Centre 32, Jalan Yap Kwan Seng, Kampung Baru, 50450 Kuala Lumpur.
Price :
Patron & Sponsor - Free of Charge 2 pax
Members - Free of Charge 1 pax
Non members - RM 80 per pax
price stated excludes 6% SST

Program
09h00 Registration, Breakfast & Networking
09h30 How to avoid and efficiently resolve cross-border disputes
10h30 Question & Answer Session
11h00 The End