This advanced training program will help sales managers coach their sales team and enhance their sales performance.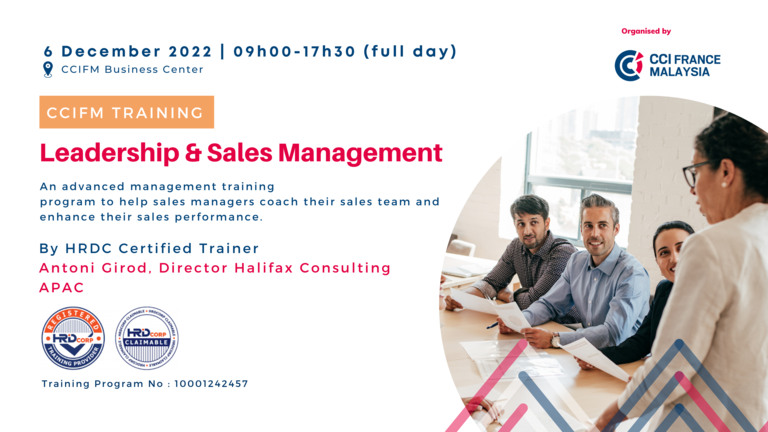 GOALS
Develop sales performance, mobilise and rally teams, foster new practices and mindset.
COURSE OUTLINE
Build the diagnosis of your sales team
· Define and evaluate the priority skills to develop, then build a team map to
evaluate the motivation & competency level.
· Understand and practice differentiated leadership to adapt the management
style to the profiles of the team members.
Organize the individual follow-up of your team
· Structure and conduct the different types of individual meetings (praising,
remotivation, reframing, evaluation & follow-up).
· Intensive roleplays based on specific case studies.
Support the progress in the field
· Measure progress and provide accurate and constructive feedback to
support the progress.
· Intensive training on the COACH® method through specific roleplays
Stimulate the motivation of the team
· Prepare and conduct efficient collective brainstorming team meetings for
problem solving
· Prepare and deliver motivational speeches to inspire the team

WHY CHOOSE THIS PROGRAMME ?
You are a field/remote sales manager or customer service team manager who needs to overcome transformation challenges and help teams reach their full potential by applying the most effective management methods.

You understand that changing habits, processes and attitudes while pooling everyone's energy is not the kind of thing you can improvise. It requires solid skills.

Date : Tuesday, 6 December 2022
Time : 09h00 – 17h30
Venue : Plaza Sentral, Unit 2A-6-3, Jalan Stesen Sentral 5, Kuala Lumpur
Sentral, 50470 Kuala Lumpur, Wilayah Persekutuan Kuala Lumpur
Price : Members - RM 750 per pax
Non-Members - RM 890 per pax

Program
09h00 Registration of Participant & Training introduction
Build the diagnosis of the sales team
Organise the individual follow up of your team
12h30 Lunch Time
13h30 Support the progress in the field
Stimulate the motivation of the team
Role plays on real cases
Synthesis
17h30 Presentation of certificate & end of the training