Speaker: Prof. Christophe Schinckus, Professor of Finance & Head of the School of Finance and Economics at Taylor's University in Malaysia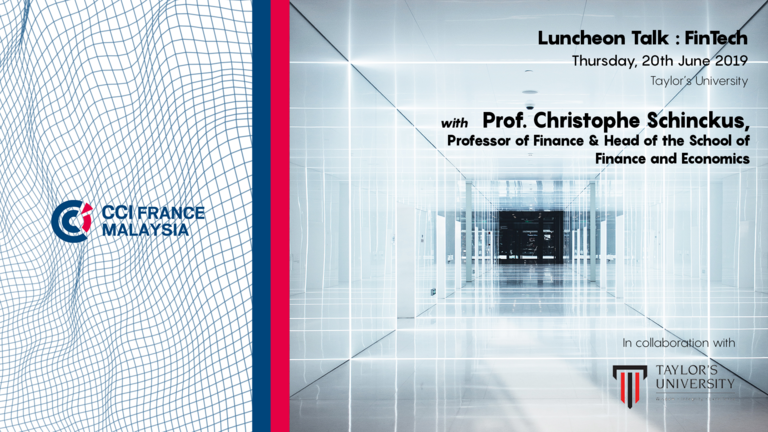 Dear members & friends,

When FinTech is mentioned, the e-Wallet or e-Pay icon comes to mind for some. Much of the attention surrounding FinTech today focused on financial services with very little discussion about nonfinancial services firms and FinTech and its blockchain technology-based tools can also create and deliver value. However, this new industry involves much more than financial transactions or services - FinTech will move beyond simply being a function provided by financial institutions as it can be presented across all sectors, applying cloud-based technologies that combine open source software and blockchain technologies.

This talk will offer a primer on FinTech and blockchain for general manager and executives by discussing how distributed ledger based systems can impact traditional business models; and, how they can be used to create value through an appropriate organizational strategy.

If you are new or not to Fintech, this talk will give you an overview of the latest developments and how they can be integrated in your strategy.

Who should attend?
Expats, Malaysian employees who work in multicultural environments, team leaders, managers.
About the speaker
Prof. Christophe Schinckus is professor of finance and Head of the School of Finance and Economics at Taylor's University in Malaysia. His research deals with econophysics, physics applied to finance; FinTech and epistemology of finance. Before joining Taylor's, Prof. Schinckus taught in different universities in Canada, the UK, Australia and Vietnam.

Christophe has a PhD in Financial Economics from Paris, a PhD in the Philosophe of Science from Cambridge and is pursuing a PhD in Physics. He has published more than 90 academic papers just released a book on Econophysics. In parallel to his academic activities, Christophe also collaborates as a consultant for private companies, such as JPMorgan or Suez Gaz de France and he recently worked with the African Development Bank.
Talk includes lunch specially prepared by the students from the School of Hospitality.
Seats are limited, please register now.
Date : Thursday, 20th June 2019
Time : 12h00 - 13h30
Address : Thyme Restaurant, Taylor's University, Lakeside Campus,1, Jalan Taylor's, 47500 Subang Jaya, Selangor

Price
Patrons & Sponsor : Free of Charge - 2 paxs
Members : Free of Charge - 1 paxs