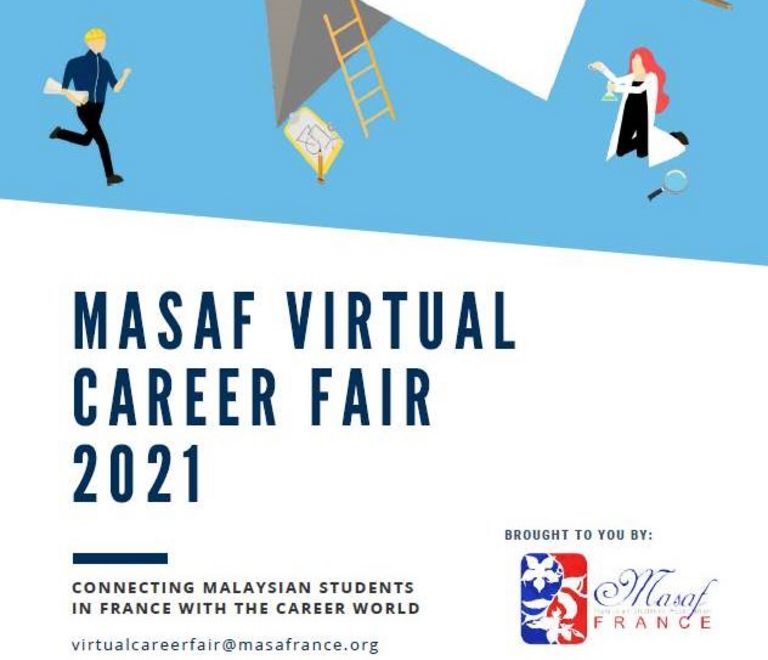 CCIFM works very closely with the Malaysian Students' Association in France (MASAF) to create more synergies between Malaysian students studying in France and French companies based in Malaysia.

We are pleased to introduce the MASAF Virtual Career Fair 2021, an initiative that aims to bridge the gap between the job and internship seekers of MASAF and companies. Besides, this event will also serve as an avenue for their students to gain career insights from industry experts and professionals.

1.The general details of the event
• Venue: Online (various platforms depending on the event component)
• Event Timeline: 9 January 2021 – 30 January 2021
• Estimated number of participants: 200
• Target Audience: Fresh Graduates, Soon-to-be Graduates, and Internship Seekers of MASAF
• Participants' Major Field of Studies: Engineering, Computer Science & Business Studies

2.Participating companies will have the opportunity to engage in the following components of the virtual career fair
• Company Live Sessions [The weekends of 9 January 2021 to 24 January 2021]
• Online Job Interview & Networking Sessions [28 January 2021 – 30 January 2021]

3. View the information booklet for MASAF's Virtual Career Fair 2021 and MASAF General Portfolio.

4. We encourage your organization to join the Virtual Career Fair
Please email Mr Achilles Logijin at virtualcareerfair@masafrance.org and fill up the Company Attendance Confirmation Form by 23 December 2020.

For any inquiries, please do not hesitate to contact Mr Achilles Logijin at virtualcareerfair@masafrance.org.