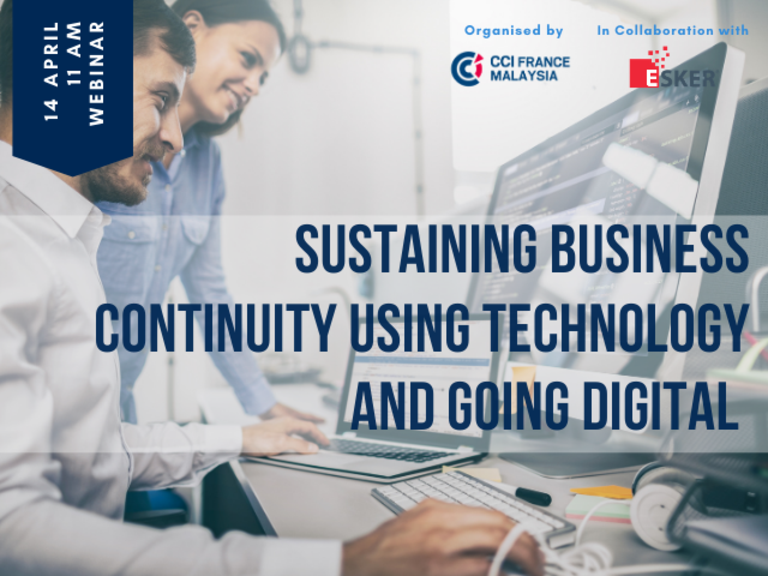 Dear members & friends,
CCIFM is organising a webinar with its member, Esker.

Today, the adoption of technology is no longer a want but more of a need for companies to work smarter, especially remote working. Technologies and Digital Transformation Tools are catalysts for bringing your back office to the digital world.

By Automating your back office, you can achieve a lot more with your team:
100% visibility from start to end
Easy Retrieval of documents
Increase document processing speed
Moving to the digital back office
Who should attend :
Leaders and Senior Business Managers
CFOs/Finance Directors
CTOs/IT Managers
This webinar is designed to support anyone who is managing and leading a distributed workforce now and into the new future working world.
Speaker
Charlie Cheah is currently the Director, Sales & Services based out of Esker Malaysia office, leads and drives Esker Asia business commercial and operational strategy in collaboration with business partners and organizations. With years of experience, he has seen how businesses evolved in the Procure-to-Pay and Order-to-Cash cycle aspects. Prior to Esker, Charlie has broad exposure and experience across multi-functional discipline and business process Charlie holds a Finance tertiary background and is a certified ISO auditor.
Come join us on this webinar to explore how adopting technologies and tools to speed up your digital transformation journey.
Please register now to reserve your spot.
Date : Wednesday, 14th April 2021
Time : 11h00 - 12h00