Speaker : Marie Tseng, Founding Director and Francis Jee, Virtual Learning Designer from Cultural Impact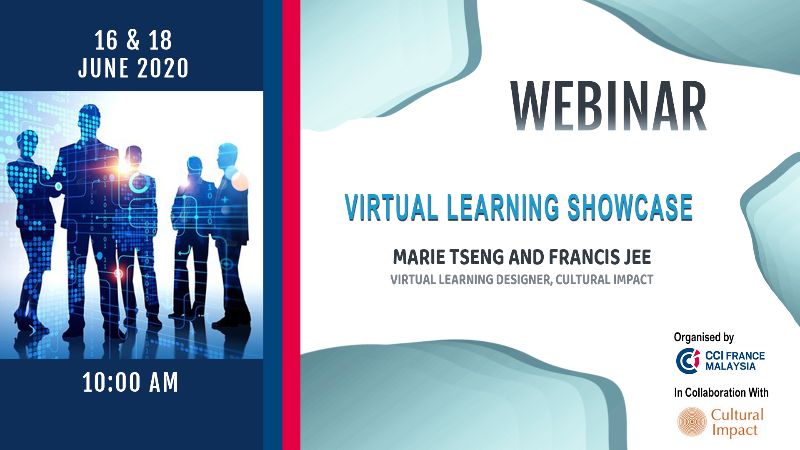 Speaker : Marie Tseng, Founding Director and Francis Jee, Virtual Learning Designer from Cultural Impact
In collaboration with Cultural Impact
Dear members & friends,

The Normandy Business School recently shared that it managed to implement within 3 months their 3 years digitalization plan. Thanks to the Covid-19 pandemic.

Indeed, since training face to face is not possible in the current context, since people organise their time differently, we all have to embrace new methods of learning and upskilling.

Speakers
Marie Tseng specialises in cross cultural facilitation and coaching. She is passionate about connecting people and developing compassionate, inclusive and trusting teams and organisations. She blends the theories of academics in the field of intercultural with her personal experience. Marie has developed a framework for individuals and teams to get a deeper understanding of their cultural biases, values and work habits.

Francis Jee has a background in Psychology, and he has been responsible for managing corporate training functions, coaching (sports & corporate), and teaching since 1990. Francis is recognised for his ability to bridge cultural gaps and successfully deliver management related programmes in English to non-English speakers across various Asian cultures in locations such as Thailand, Hong Kong, China, Taiwan and Indonesia. He is equally effective in Singapore and Australia. His audiences consistently value his focus on practical real life applications and making content easy to relate to their roles as managers, and to their work context.

So how do we make the most of this opportunity and ensure our people
Acquire sustainable new knowledge in the current context
Learn to learn online
Create learning communities
Create sustainable self-learning practices
In this two-hour workshop, you will experience their methodology that makes online learning engaging, fun, and effectively stimulates and supports learning for participants.

This workshop will showcase how to run effective virtual training. Over the last six months, they have transformed their programmes from face to face to virtual space. They are also helping organizations transform their own programs so that business critical training can be 'uncancelled'!
Slots are limited to 12 participants per session, please register now!

Date : Tuesday & Thursday, 16th & 18th June 2020
Time : 10h00 – 12h00 Malaysia (Kuala Lumpur) Time
Fees :
Patron/Sponsor - Free of charge
Members - Free of charge
We encourage each organisation to register 2 participants to make the most out of this workshop.

Once we receive your registration, a link will be sent to you to join the webinar a day prior to the event.