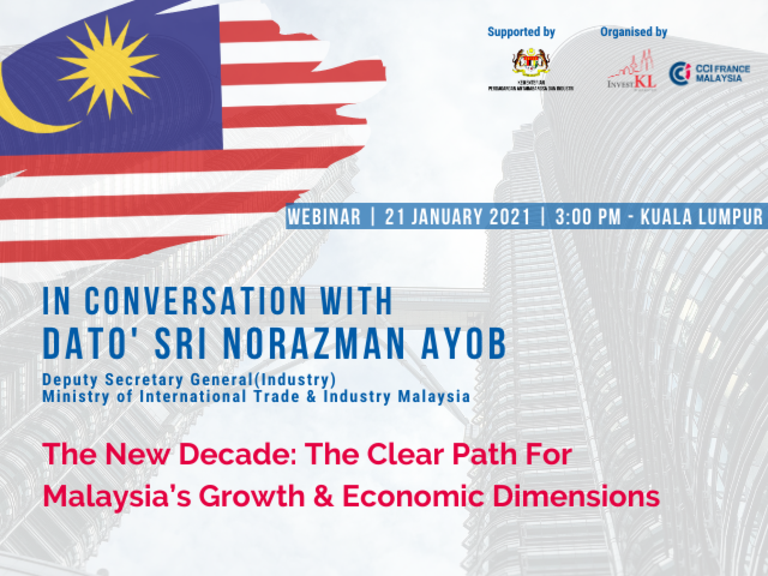 Dear members and friends,

InvestKL and CCIFM with the support of MITI will be organizing an exclusive webinar with Dato' Sri Norazman Ayob, Deputy Secretary-General (Industry) at the Ministry of International Trade & Industry Malaysia for a better understanding on the Malaysian economic outlook.

The webinar will touch on key topics such as:

The reassurance of viability of Malaysia as an investment hub in the Asia Pacific
What are the strengths of Malaysia as an investment hub compared to neighbours?
Will the new incentives were proposed during the budget help attract FDI into the country?
COVID19 Pandemic security issues and restriction on the circulation of residents is hampering the concept of Malaysia as a Regional Hub. What can the government do to help manage this better?
Update on the trajectory of Malaysia's trade policy
Malaysia has signed the RCEP after 8 years of negotiations. How will this help improve Malaysia's economy?
Malaysia and the EU Free Trade Agreement. Will Malaysia lose out in favourable trade with the EU?
It will also touch in existing theme on Malaysia's Industry 4.0 blueprint, the importance of attracting tech-based companies to invest in Malaysia and the contribution of expatriates in the development of Malaysia

Don't miss this opportunity to interact directly with the Ministry of International Trade Malaysia. Register now to save a spot for you!

Date : Thursday, 21 January 2021
Time : 3:00 PM – 4:30 PM
Program :
3:00 pm Welcome address by Gilles Waeldin, President of CCIFM
3:05 pm Message by En. Muhammad Azmi Zulkifli, Chief Executive Officer of InvestKL
3:10 pm Message by H.E Roland Galharague, French Ambassador to Malaysia
3:15 pm Keynote address by Dato' Sri Norazman Ayob, Deputy Secretary-General (Industry) Ministry of International Trade & Industry Malaysia
3:35 pm Question and Answer Session moderated by Gilles Waeldin President of CCIFM & Datuk Zainal Amanshah, Chairman of CCIFM
4:25 pm Closing Remark by Datuk Zainal Amanshah, Chairman of CCIFM
4:30 pm End of Webinar

Price :
Patrons & Sponsors - Free of Charge
Members - Free of Charge
Non-Members - RM 50.00

A link for you to access the webinar will be shared with you prior to the event once we have received your registration. The question to the guest speaker is to be submitted prior to the event, please click here to submit your question. The question must be submitted by Thursday, 14 January 2021