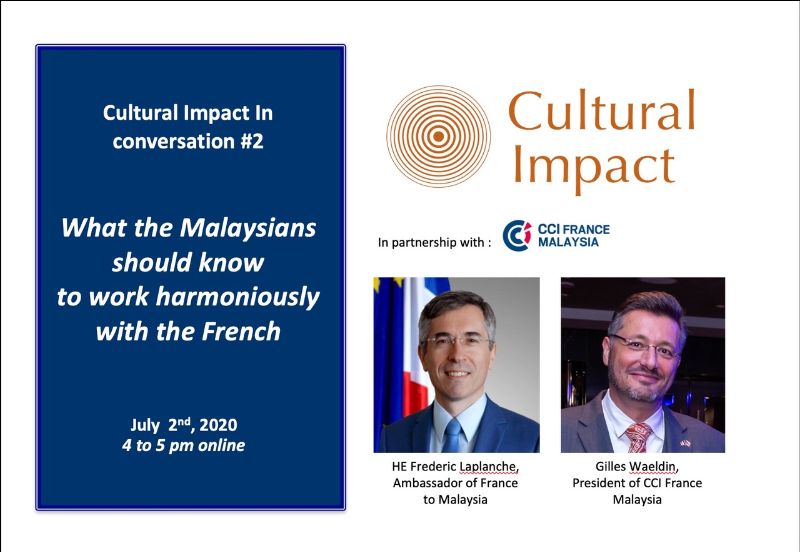 CCIFM in collaboration with its member Cultural Impact is pleased to bring to you a session on working with the French harmoniously. The webinar will be conducted by Ms. Marie Tseng founder of Cultural Impact, who specializes in cross-cultural facilitation and coaching.

Earlier this year, Dr. Mahatir was keynote speaker at the annual seminar organised by the Chamber of Commerce and Industries France-Malaysia (CCIFM) . On the topic of French culture, he praised French value system: "I hope that French culture can have more influence in our country". French is the second most popular foreign language studied in Malaysia, yet being able to work effectively with French people is not just about language.

Cultural Impact is delighted that H.E Frederic Laplanche, Ambassador of France to Malaysia and Gilles Waeldin, president of CCIFM have accepted their invitation to share what French organisations and French professionals expect in the workplace.

This session will be useful to anyone who has to work with French people. Participants will learn how to communicate, connect with and earn the trust of your French colleagues and partners.
Encourage your Malaysian colleagues to join us, … and if you are French, join us too, to get a Malaysian perspective on French culture.
Date : Thursday, 2nd July 2020
Time : 4:00 PM – 5:00 PM Malaysia (Kuala Lumpur) Time
Fees :
Patron/Sponsor - Free of charge
Members - Free of charge

Once we receive your registration, a link will be sent to you to join the webinar.