Breath of Dragon/ KL Arts Festival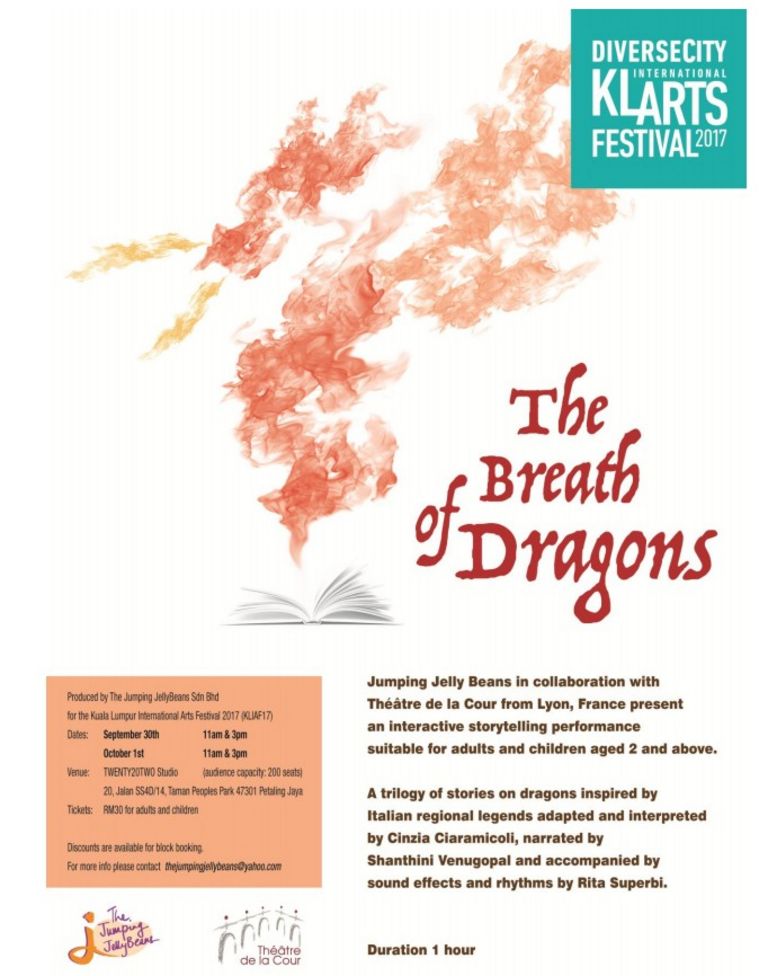 French Theatre at the KL International Arts Festival 2017
The KL International Arts Festival (KLIAF) will take place from 31 August to 1 October 2017. Launched in 2015, KLIAF is building a reputation as a major annual international celebration of the Arts. This year, KLIAF will present over 50 performances and exhibitions in over 12 venues throughout Kuala Lumpur, as well as educational workshops and activities.
Keeping with the Festival objective to make the arts accessible and encourage an appreciation for the creative field, we are thrilled to present this fun filled interactive storytelling performance.
A local production Jumping Jelly Beans will collaborate with Theatre de la Cour from France, for 2 performances .
BON VOYAGE!
Bon Voyages staged on the platform of the historical Keretapi Tanah Melayu Berhad (KTMB) railway station. Inspired by the journey of the "Orient Express",the show is about three travellers from different countries who try to communicate with each other despite their cultural and linguistic barriers.

Entrance is FREE OF CHARGE!
Venue: KTM railway station, Jalan Sultan Hishamuddin, Kuala Lumpur
Date : 4 performances: 16th & 17th and 23rd & 24th
Time: 2pm (1 hour show)
"The Breath of Dragons"
It sis a trilogy of Dragon stories inspired by Italian legends. It is an interactive storytelling show. Each story is presented in different theatre styles; wayang kulit, life sized puppets and physical theatre. An enchanting experience that will delight the young and old alike!
Tickets: flat rate of RM30
Venue: Twenty20Two studio, 20 Jalan SS4D/14, Taman Peoples Park, Petaling Jaya
Date : 4 performances: 30th September and 1st October |
Time : 11am & 3pm (1 hour show)
For Group Bookings, the following discounts apply
Purchase 10-50 tickets-10% discount
51-100 tickets-15% discount
101 tickets & above-20% discount
Please contact Ms Shanthini Venugopal at thejumpingjellybeans(@)yahoo.com
Do visit the Festival website, www.diversecity.my for the full list of exciting performances, exhibitions, workshops and talks lined up.