CCIFM Delegation Meets the New French Ambassador to Malaysia, H.E Roland Galharague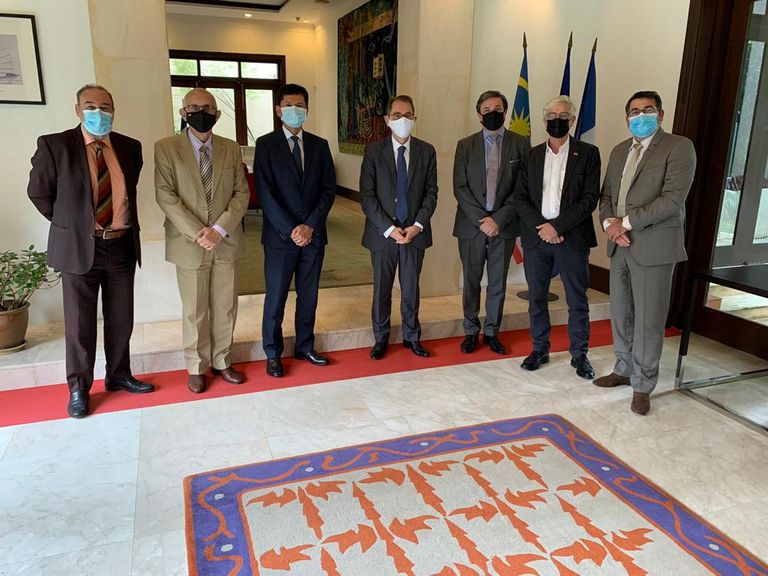 CCIFM delegation, led by Chairman, Datuk Zainal Amanshah, meet H.E Roland Galharague, the new Ambassador of France to Malaysia.

H.E Roland Galharague was born on March 13th 1961 (59 years). An alumnus of the Ecole Normale Supérieure in Paris, he holds degrees in Russian and German studies. He also has an advanced degree in History from the Ecole des Hautes Etudes en Sciences Sociales (EHESS), Paris.
His excellency joined the Foreign Service in 1990. He served as First secretary to the French Embassy in Washington, DC (1996-1999), as Head of the Press Section of the French Embassy in London (2002-2005), as Deputy Chief of Mission in Pretoria (2005-2008), as Ambassador to Hungary (2012-15), and lately as Ambassador to the Czech Republic (2017-2020).

At headquarters, he was among other positions, Deputy Director of Policy Planning (1999-2002), Director for Continental Europe (2008-2010), Deputy Director General for Political and Security Affairs (2010-2012), and Special adviser for Strategy to the Director General (2015-2017). He has the rank of Minister Plenipotentiary.
H.E Roland Galharague speaks English, Russian and German.
Awards
Roland Galharague is a Knight in the National Order of Merit and in the National Legion of Honour.

Source: https://my.ambafrance.org/-English-