Cooking with Chef Jean - Volume I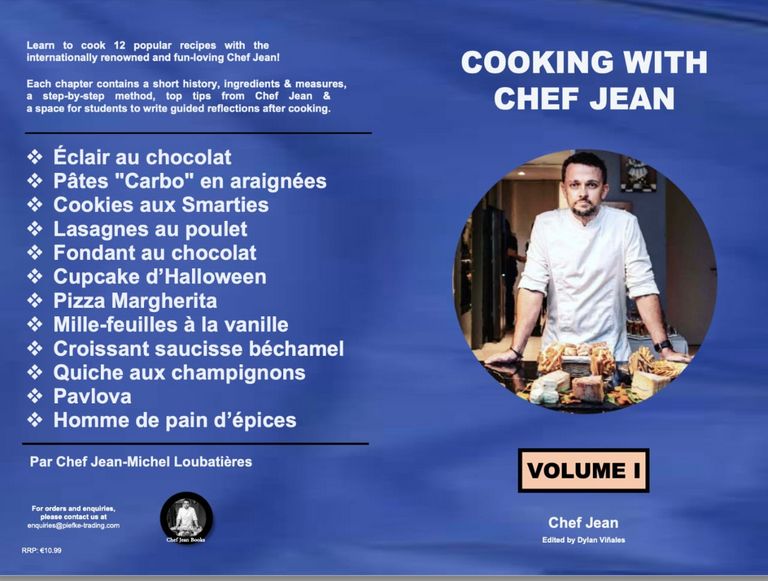 Chef Jean is a French chef graduated from ISTHIA (Université Toulouse – Jean Jaures) and has over 10 years of experience in teaching culinary to students varying from primary school age to higher education in forms of physical and online classes.
This month, he has published his first cookbook, "Cooking with Chef Jean – Volume I". This book is a user-friendly, practical guide to cooking 12 popular recipes. The book has been an instant success on the local scene, with Chef Jean's book launch event earlier this month drawing well over a hundred guests, keen to meet the celebrity chef and purchase a signed copy of his new book.
Cooking with Chef Jean can be used by teachers offering cooking courses, or by students independently. Each chapter contains a short history, ingredients & measures, a step-by-step method and top tips from Chef Jean. There is also a space for students to write guided reflections after cooking, in order to reflect on their learning and consolidate the cooking skills learnt in every class. The top tips are a real life saver, and a snapshot into Chef Jean's world of professional quality patisserie and other culinary creations.
In addition to teaching, Chef Jean provides his expertise in private dining and catering under his company Dalí by Chef Jean in Kuala Lumpur (Malaysia). He is also involved in the Rugby association in Malaysia and, when not creating masterpieces in the kitchen, or inspiring the next generation, he spends his time between Reunion Island and Toulouse, touching base with his home culture and enjoying time with his family.
Volume I includes the following recipes:
Éclair au chocolat
Pâtes "Carbo" en araignées
Cookies aux Smarties
Lasagnes au poulet
Fondant au chocolat
Cupcake d'Halloween
Pavlova
Homme de pain d'épices