Global Entrepreneurship Community 2016 - Reimagine the Future of Entrepreneurs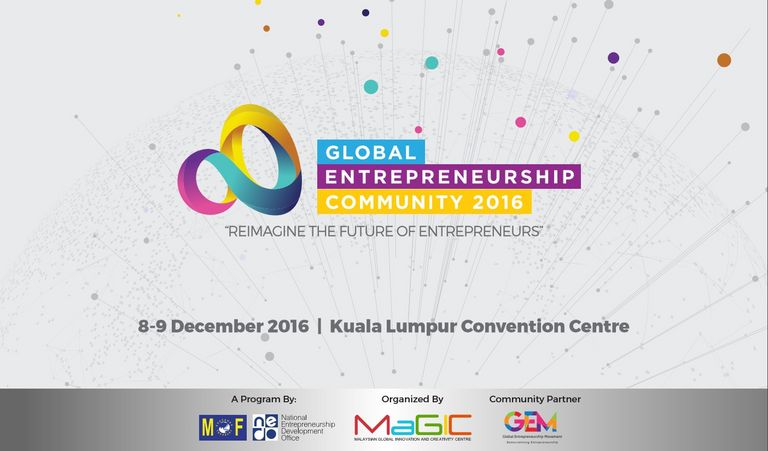 DECEMBER 08, 2016
Global Entrepreneurship Community 2016 (GECommunity 2016) brings together ecosystem
Influencers, startup communities and industry leaders from all over the world to collaborate and find
new innovative approaches to solve real problems and chart the way forward for entrepreneurs. The
inaugural event aims to connect a community of thousands of experts and like-minded startups
tackling similar problems.
GECommunity's foundations are built on 8 industry-specific cluster labs which will push through
initiatives and solutions that will lead to new economies and industry transformation. Under the
theme of "Reimagine The Future of Entrepreneurs", 1200 cluster practitioners, policy makers,
corporate leaders, entrepreneurs and community champions will gather together to look at critical
challenges, future trends, exchange experiences and discuss strategic partnerships.
In addition to dynamic and engaging speakers, the summit offers networking opportunities, business
matching and mentoring sessions with potential partners, investors, start -ups and ecosystem builders.
GECommunity is a global summit initiated by the government of Malaysia to empower
entrepreneurs around the world with groundbreaking ideas and collaborations to solve cross-border
challenges, uncover new possibilities and revolutionary ideas within the entrepreneurship ecosystem,
and tap into Malaysia's potential as one of the great entrepreneurship hubs of the world.
Meet other bold innovators, and entrepreneurs at the GECommunity 2016 and leave inspired with
new connections and innovative solutions that can transform industries and grow your ventures.