Immigration Alert – Malaysia – Inclusion of Digital Nomads in the Manufacturing Sector in the DE Rantau Nomad Pass Scope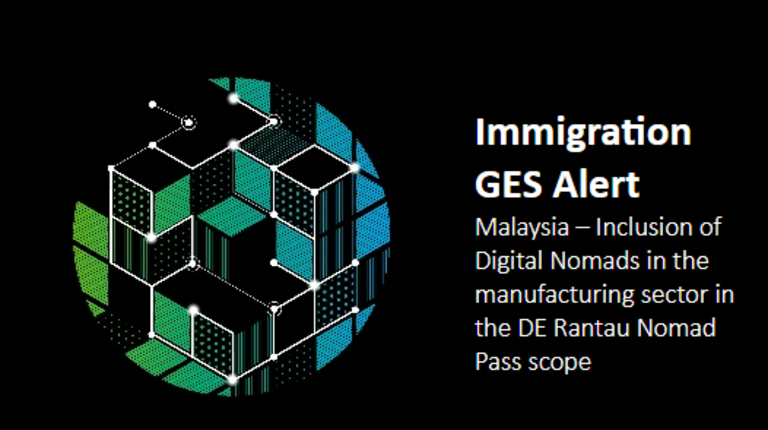 What is the change?
Malaysian Prime Minister, Datuk Seri Anwar Ibrahim announced on 14 July 2023 that the scope of the ongoing DE Rantau Nomad Pass programme will be extended to foreign nationals with valuable manufacturing-related skills, such as in electrical and electronics (E&E) and integrated circuit (IC) design.
As a refresher, the DE Rantau Nomad Pass is a type of Professional Visit Pass (PVP) that allows qualified foreign Digital Nomads to travel and work remotely across various locations in Malaysia while having access to stable broadband connectivity, and various other facilities and services that support the nomadic lifestyle. The pass, which allows for up to 24 months of stay in total, was first open only to foreign nationals skilled in the fields of IT, digital marketing, digital creative content, and digital content development. Holders of the DE Rantau Nomad Pass can be accompanied by their spouse and children under this pass.
The pass is now open to Digital Nomads in the targeted manufacturing sectors under the New Investment Policy (NIP) and the New Industrial Master Plan (NIMP) 2030. Several DE Rantau Nomad Passes have already been presented to foreign digital nomads at the Prime Minister's Department on 24 July 2023.
Apart from the inclusion of digital nomads in the manufacturing sector, all requirements, process, and timeline for the DE Rantau Nomad Pass application remain in place. For more information, please visit MDEC's website.
Deloitte's view
Companies within manufacturing sectors under the NIP and NIMP 2030 may now leverage on highly-skilled foreign digital nomads under the DE Rantau Nomad Pass for business and industry growth. In turn, DE Rantau Nomad Pass holders will benefit from streamlined immigration facilitation, as well as access to various accommodations and services in Malaysia, curated under DE Rantau programme.
As there is currently limited information on this immigration process, more information will be shared should there be further updates to the DE Rantau Nomad Pass.
Source: Deloitte