Event report
In Conversation with H.E Michalis Rokas, Ambassador & Head of the EU Delegation to Malaysia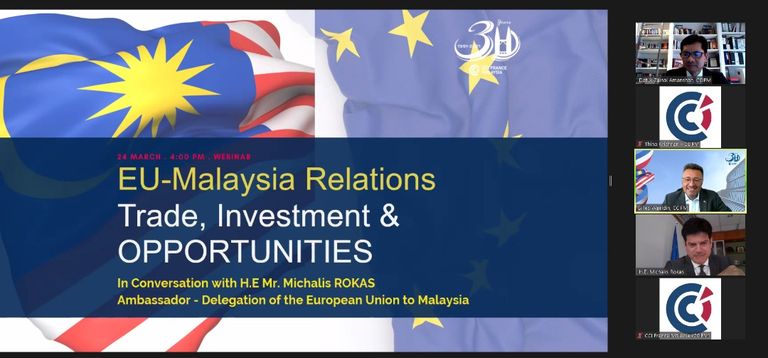 H.E Mr. Michalis Rokas Ambassador & Head of EU Delegation was the keynote speaker at a webinar hosted by CCIFM on 24th March 2021.
In this webinar, Ambassador explained his vision and the part that the EU Delegation plays when it comes to the bilateral relations between the EU & Malaysia. Besides that, he gave us an update on the economic outlook as well as he spoke about the current vaccination progress in the EU. His Excellency also emphasise on the key role of French companies to contribute towards this trade relation within the EU context.

About EU Delegation to Malaysia
The European Union, the Delegation's task is to promote closer ties with Malaysia by providing an efficient and reliable communication channel between the EU and Malaysian authorities, business, education institutions and civil society.
The Delegation also promotes people-to-people contacts and highlights Europe's cultural and linguistic diversity. It supports European higher education exchanges and facilitates cooperation in the field of science and technology through its various activities.
The specific tasks of the EU Delegation to Malaysia are to:
Represent the European Union in the execution of its competences;
Enhance bilateral political, economic and commercial relations;
Promote and defend the values and interests of the EU; and
Pursue an information and communication policy in line with the European Union's overall strategy in South East Asia.
The EU Delegation works in close contact with the Embassies of the individual EU Member States present in Malaysia and promotes the EU's common positions and policies in the areas of EU competence.