Trade Mission to Myanmar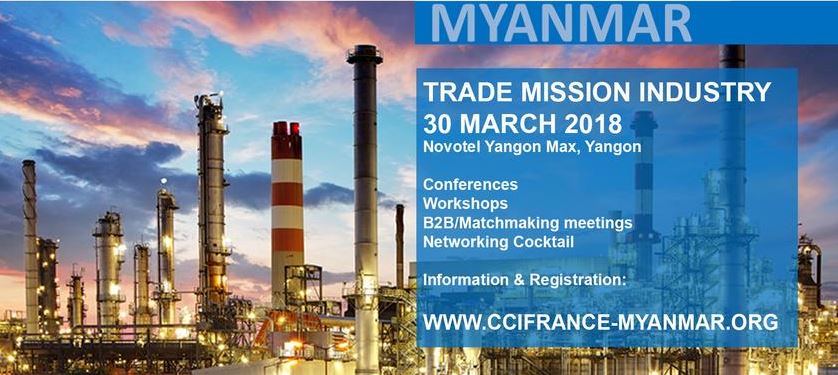 Friday, 30 March 2018 | Novotel Yangon Max
Our counterpart in Myanmar, CCI France Myanmar is organising, in partnership with Business France, a trade mission on the Myanmar Industry Sector, taking place on 30th March 2018, at Novotel Yangon Max.
This trade mission will bring together local and foreign companies already operating in Myanmar, as well as delegates from companies based in other ASEAN and APAC countries.
This event will give way to conferences on the economic & political environment in Myanmar, on textile & agrofood industries, and on the economic & industrial zones in Myanmar.
The conferences will be followed by B2B/matchmaking meetings with the members of the delegation, with companies operating in Myanmar, and with local associations.
Please click here to have more information about the event and to see the detailed program.
Date : Friday, 30 March 2018
Time : 9:00AM - 5:30PM
Address : Novotel Yangon Max
Rates for Participants residing in Myanmar
60 USD/person
Rates for Delegates coming from outside Myanmar
1,000 USD/person