Event report
Webinar: The New Decade: The Clear Path for Malaysia's Growth & Economic Dimensions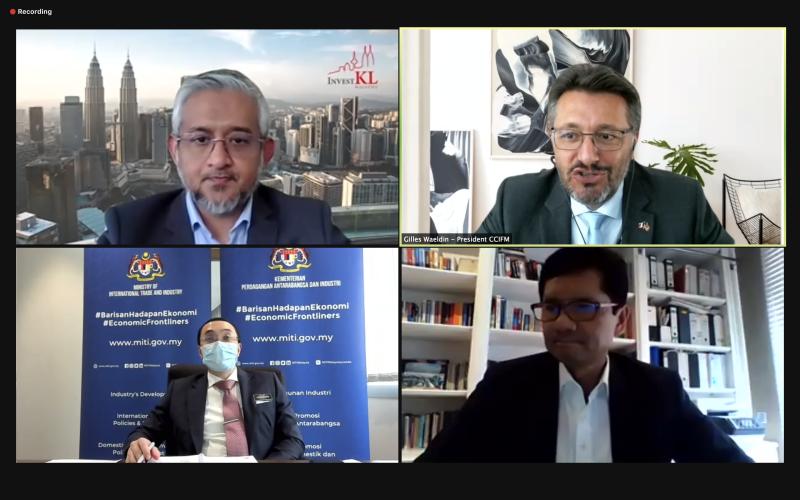 In collaboration with InvestKL, CCIFM organized an exclusive webinar focusing on Malaysia's viability as an investment hub in the Asia Pacific titled "The New Decade: The Clear Path For Malaysia's Growth and Economic Dimensions".
Thank you Dato' Sri Norazman Ayob, Deputy Secretary-General (Industry) from Ministry of International Trade & Industry (MITI Malaysia) for sharing your in-depth knowledge on Malaysia's economic, trade and investment overview
During the session Dato Sri touched on topics that reassurance of viability of Malaysia as an investment hub in the Asia Pacific including
The strengths of Malaysia as an investment hub compared to neighbors.
The new incentives proposed during the budget help attract FDI into the country.
What the government is doing to help manage COVID19 Pandemic security issues and the restriction on the circulation of residents which is hampering the concept of Malaysia as a Regional Hub Update on the trajectory of Malaysia's trade policy
On Malaysia signing the RCEP after 8 years of negotiations and how this will this help improve Malaysia's economy
The Malaysia and the EU Free Trade Agreement.
Thank you again InvestKL for your support and we look forward more mutual collaboration in the future.

For those who missed it, here is the recording of the webinar lnkd.in/g45EN_t