Event report
What I Wish My Foreign Colleagues Knew About Malay Culture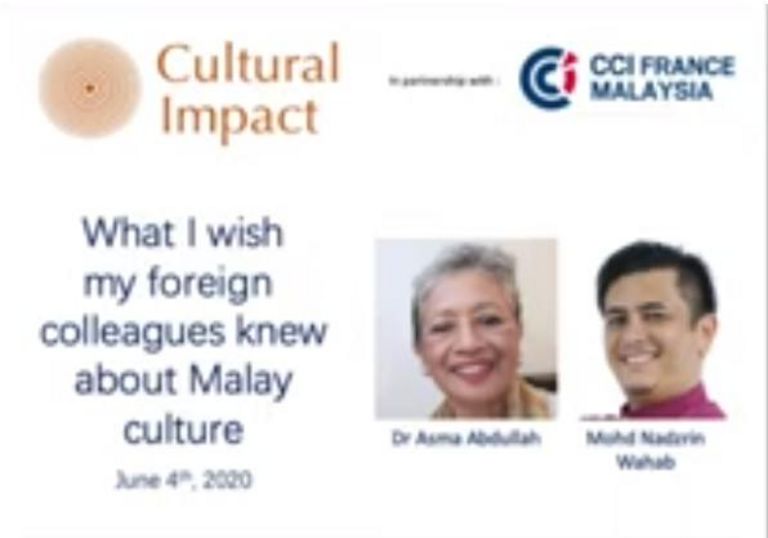 In collaboration with Cultural Impact
"If you are not able to understand or be interested in the local culture, you will make a lot of mistakes along the way." Gilles Waeldin, President of the CCIFM.
The key to a happy and high performing workplace lies in having a deeper understanding and appreciation for one another. Cultural Impact's talk series 'In Conversation' was initiated in this spirit, and looks to engage in meaningful, enlightening discussions that might benefit all members of a diverse team.
It was a pleasure to kick off this program with Dr. Asma Abdullah and Mohd Nadzrin Wahab and their experiences as Malays in the workforce..
Both Dr. Asma and Nadzrin have worked in Malay companies and non-Malay organisations. On every scale, it seemed that they were always faced with environments where their cultural assumptions were challenged.
For Asma, this happened when stepping into an American company that favoured outspoken confidence and considered her own Malay 'qualities' as character traits that needed to be work on. It became difficult to fully understand what it even meant to be Malay. To this day, there seem to be so many constantly changing definitions; is one Malay first or Muslim first? As a Malay Baby Boomer, Asma was taught to be soft-spoken, obedient and not to challenge her superiors. But this new American work setting demanded that she speaks up for herself, something which was initially difficult. She suddenly found herself having to articulate dissenting views and project herself. But then switching between foreign managers and Malay bosses, who both carry their own ethnic values into the workplace, can be challenging too.
Nadzrin's own cultural assumptions were challenged when he stepped into University as a city-born KL Malay and, upon meeting Malays from other states, was forced to reconcile with the fact that Malays across Malaysia are not homogenous. He saw a significant difference between Malay students who came from outside KL and what he called, the 'Bangsar Bubble' Malays - Malays who exist within their own world and believe everyone in the world speaks English, he joked. Later, working in a multinational organisation, he had to rethink his social conditioning when he met for the first time an Israeli colleague (Malaysia as a country does not recognised Israel): "Should I be friends with this guy? My beliefs and views were challenged." he says. But if you ask Nadzrin how he felt about it all his answer is enthusiastic: " It felt amazing"...read more