Work Safety tis served over dinner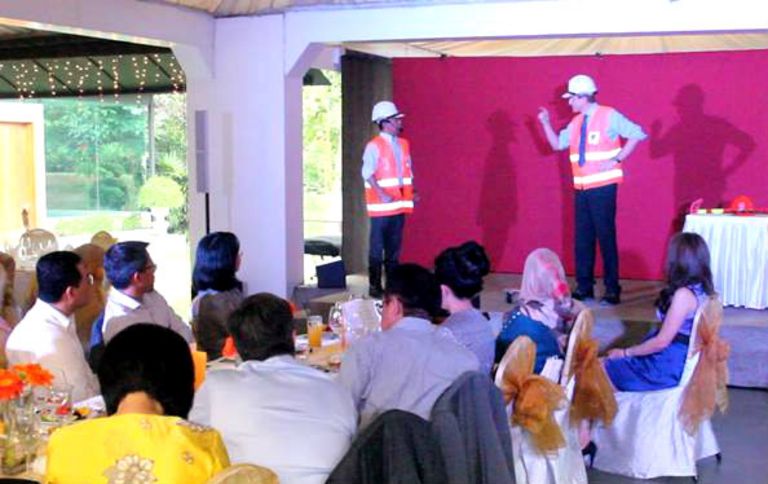 Come mid-2016, the population of greater Kuala Lumpur will enjoy an expanded, more sophisticated public transit network when the extension of the Kelana Jaya LRT is completed.
Thousands of rail infrastructure construction workers have toiled in the past few years to make this a reality, with more than 500 workers at peak from COLAS RAIL ASIA Sdn. Bhd.
Recently, the company held its 2016 annual dinner. President & CEO, Richard Fostier, in his opening address, proclaimed that the dinner was also to celebrate the fact that even as its workers maintained a brisk speed of construction at a whopping three times the conventional rate, injury and accidents at work-sites were kept to an impressive minimum.
Yet, it was noteworthy that even with such a safety record and at its celebration dinner, COLAS RAIL management deemed it important to still keep Safety top of mind and to continue to encourage total awareness for an accident-free work environment.
For such a strategic intervention, COLAS RAIL turned part of the evening over to corporate training experts, CULTURAL IMPACT Sdn. Bhd. for a solution that would be both entertaining yet leave an indelible impression that evening.
Drawing on their expertise in theatre-based training and education, CULTURAL IMPACT consultants (led by Marie Tseng and Gregory Henno) conceived an engaging stage presentation that hit the spot: a theatrical performance using caricature, humor, music, and movement.
The 20-minute session was written after research and interviews with Christophe Chassagnette (Chief Operating Officer), Sri Hilyati (HR Director), Andrew Williams (Safety Manager), Bruno Mougenot (Construction Manager), and Anggappan (Senior Supervisor) from COLAS RAIL, including a visit to one site at Putra Heights.
Language and music reflecting the diverse nationalities and ethnicities of the multicultural staff were peppered throughout the performance to connect with the audience even as it underscored the challenges of cultural diversity in the work environment.
In the dramatic narrative, performed by two actors, work safety information was memorably chunked into musical interludes and choreography.
To engage the emotions, the hierarchy of organizational command and responsibility was exemplified as a three-generation family, reinforcing the idea that "we must look out and look after each other like family, because like a family we are building a future together".
As summarized it "With Realex Exchange Theater, Cultural Impact Sdn Bhd s"
If you are interested to know more contact Marie Tseng at Cultural Impact – by email marietseng(@)culturalimpact.org or by phone 0172305199.