Unlock the Power of Teams with the Team Psychology Safety Certification!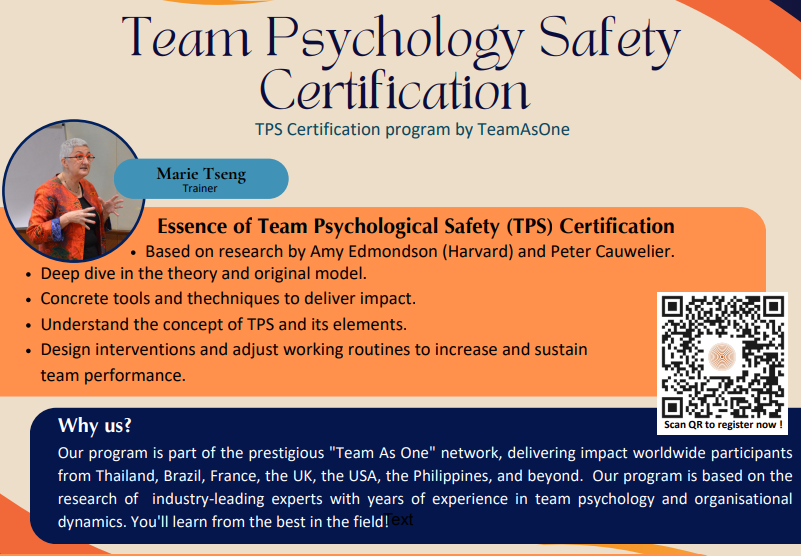 Calling all certified coaches, team leaders, facilitators, and anyone passionate about fostering thriving team dynamics - our Team Psychology Safety Certification is here, and you're invited!
In today's fast-paced world, effective teamwork is more crucial than ever. This certification offers a unique opportunity to upskill yourself before the year ends, equipping you with the tools to create psychologically safe, high-performing teams.
CCIFM Members can enjoy a 50% special discount!
📆 Save the Date: 7th & 14th November 2023
📍 Location: Cultural Impact Sdn Bhd, B-42-08 The Soho Suite @ KLCC
Whether you're looking to enhance your coaching practice, lead teams with confidence, or facilitate impactful workshops, this certification is tailored to elevate your skills and boost your career.
#2. What makes a high-performance team ?
#3. The elements of team psychological safety
#4. Exploring team psychological safety
#5. The foundations of team psychological safety
#6. Designing interventions
Join Cultural Impact in shaping the future of teamwork and register today! Don't miss this chance to make a significant impact with Cultural Impact! Let's close the year on a high note by investing in your professional growth and the success of your teams.