Global Sustainability-Oriented Firms Can Achieve Their ESG Targets from Greater Kuala Lumpur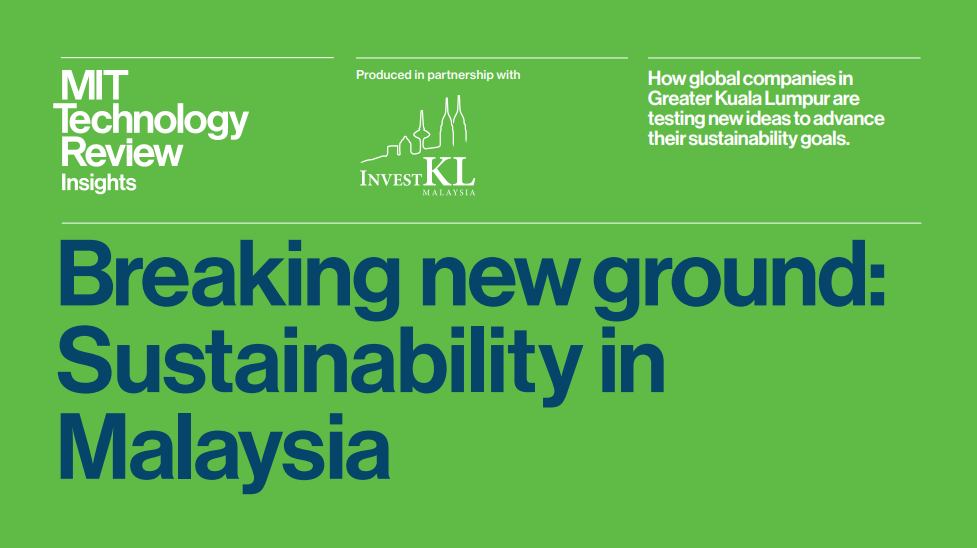 The report by MIT Technology Review Insights highlights what global companies in Greater KL—and Malaysia as a whole—are doing to achieve their ESG targets.
Kuala Lumpur, 5th August 2022: InvestKL Corporation ("InvestKL") launched "Breaking New Ground: Sustainability in Malaysia," a sustainability-themed report developed in collaboration with the Massachusetts Institute of Technology ("MIT") Technology Review Insights yesterday.
The launch held at Le Meridien Kuala Lumpur was officiated by Dato' Sri Norazman Ayob, Deputy Secretary General (Industry) from the Ministry of International Trade and Industry ("MITI"), Datuk Seri Dr Michael Yam, Chairman of InvestKL and Muhammad Azmi Zulkifli, CEO of InvestKL. The event was attended by CEOs and senior-level management from leading global companies, government agencies and partners.
The report is based on interviews with sustainability experts and senior executives from leading global companies in Greater Kuala Lumpur ("KL"). It highlights how they drive sustainability values by incorporating environmental, social, and governance ("ESG") principles into their core businesses, and how their local experience could be applied globally.
The key findings of the report are:
Malaysia is committed to becoming a regional decarbonisation leader through its deep, globally integrated industry clusters and supply chains to develop new, greener business processes and less carbon-intensive manufacturing and logistics processes.
Greater KL has experienced a significant increase in "greening" opportunities for some of the country's conventional innovation clusters, particularly in oil and gas, energy, IT outsourcing and other digital economy sectors.
Malaysia's growing sustainability stance is creating a culture of monitoring, measurement and accountability that can serve as a framework for ESG-minded companies.
Muhammad Azmi Zulkifli, CEO of InvestKL said "The need for sustainability has put government and corporates alike in a unique position to drive meaningful change. I am glad to learn today about our common sustainability vision and the traction made so far to improve our ESG standing so that we remain competitive. Malaysia is an exemplary location and well positioned to drive ESG and sustainable initiatives, providing greening opportunities and leadership to catalyse Greater KL as a Sustainable Hub for Innovation, Digital, and Technology."
Azmi further notes that the findings are in line with Malaysia's ESG-based aspiration as reflected in the 12th Malaysia Plan and by the New Investment Aspirations (NIA), a forward-looking growth framework that will form the basis for comprehensive reforms of Malaysia's investment agenda.
Also part of the agenda was an insightful discussion by Dato' Sri Norazman Ayob, Deputy Secretary General (Industry) from MITI, Wan Sayuti Wan Hussin, Head (Strategy & Policy), Corporate Sustainability from Petronas, and Norliza Hashim, the CEO of URBANICE Malaysia. The session which was moderated by Manon Bernier, Deputy Resident Representative, Malaysia, Singapore and Brunei Darussalam from UNDP discussed the Malaysia story at the forefront of ESG and how these values are becoming guiding principles for companies to elevate their sustainability journey.
The "Breaking New Ground: Sustainability in Malaysia" report can be accessed via https://bit.ly/3OYUzhc