The Chamber • Partners
Morning Talk: Key Changes in Companies Bill 2015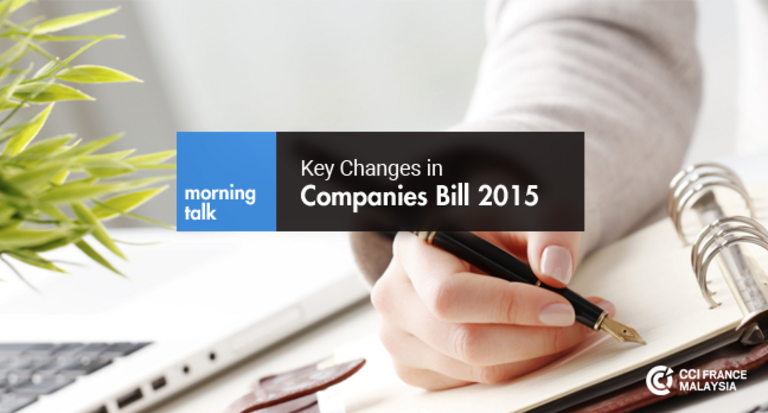 Thursday 24th March 2016 | CCIFM Office, Kuala Lumpur
Dear members & friends,

In 2013, the Companies Commission of Malaysia published a draft Companies Bill for public consultation. It was passed in 2015 and introduced a new corporate legal framework that will replace what was contained in the current Companies Act 1965.

It has the objective of modernizing the Malaysian corporate legal landscape in line with other progressive corporate law regimes such as Australia and the United Kingdom.

The various topic which will be covered during our talk are:

- Incorporation & types of companies
- Constitution of companies
- Shares
- Dividends
- Meetings & resolutions
- Capital reduction
- Financial assistance

Ahmad Zulkharnain Musa, heads the firm's Corporate & Commercial IV Practice Group Zaid Ibrahim & Co. He has extensive experience in advising corporations including public listed and government-linked companies on the whole range of corporate and commercial transactions including mergers and acquisitions as well as equity capital market transactions.
Seats are limited, please register now.

Date : Thursday, 24th March 2016
Time : 09h00 -11h00
Venue : CCIFM Office, Unit 2A-6-2, 6th floor Plaza Sentral,
Jalan Stesen Sentral 5, 50470 Kuala Lumpur

Price
Patrons & Sponsor Free of Charge -2 paxs
Members Free of Charge - 1 paxs
Non - member RM 50 per person ( RM 53.00 with GST)

Program
09h00 Registration & French Breakfast
09h30 Talk- Key Changes in Companies Bill 2015
Question & Answer Session
11h00 End of Talk