The Chamber • Partners
Morning Talk on Trans Pacific Partnership Agreement (TPPA)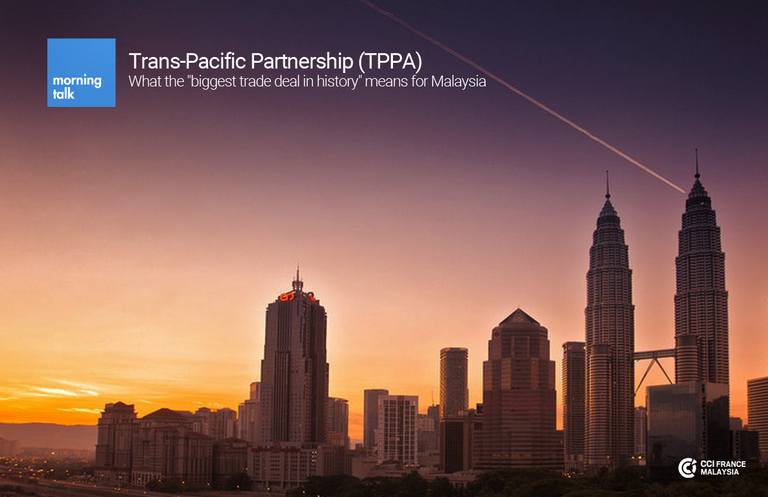 On Tuesday 10th March, we briefed our members on the Trans Pacific Partnership, which will give new direction to the ASEAN economic market and its impact on Malaysia.
This session as conducted by our guest speaker and member Mr. Philippe Girard-Foley of Philippe Girard-Foley & Advocates.
What is the Trans Pacific Partnership Agreement
The Trans-Pacific Partnership Agreement (TPPA) is a trade agreement among twelve Pacific Rim countries. It has been signed on 4 February 2016 in Auckland, New Zealand, after seven years of negotiations, but it is still not applied.
The 30 chapters of the TPP Agreement concern many matters of public policy and a stated goal to "promote economic growth; support the creation and retention of jobs; enhance innovation, productivity and competitiveness; raise living standards; reduce poverty in our countries; and promote transparency, good governance, and enhanced labor and environmental protections."
Photo Credit - McConnell Dowell
The deal is a remarkable achievement given the very different approaches and standards within the member countries, including environmental protection, workers' rights and regulatory coherence - not to mention the special protections that some countries have for certain industries.
Some criticisms have also emerge against this partnership, like it's a not-so-secret gambit to keep China at bay - which is not part of the TPP. For its part, China has given it the TPP a cautious welcome.Others claim it paves the way for companies to sue governments that change policy on, say, health and education to favour state-provided services.
The TPP will also intensify competition between countries' labour forces.But the biggest criticism has been of what the campaigners allege were secretive negotiations, in which governments were said to be seeking to bring in sweeping changes without voters' knowledge.