Event report
Webinar: French Start-Up In Malaysia: What You Should Know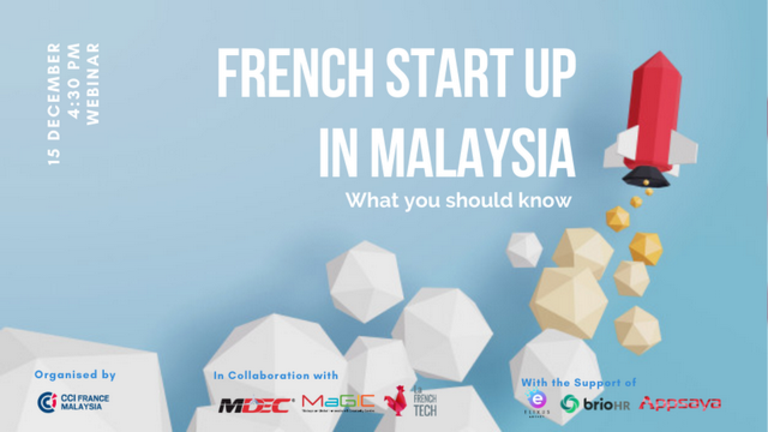 CCIFM organized a special webinar for Start-Up, the webinar aims to support locally established start-up as well as new ones. The key topic revolved around why Malaysia is your best gateway to Southeast Asia and a hub for business development with the APAC region.
Thank you for our partners MDEC and MaGIC. Mr Sivavenayakam Velayutham, Senior Manager Business Development from Malaysia Digital Economy Corporation -MDEC gave an update on the Malaysian Digital Landscape. In the meantime Mr Mohamed Yusnee Rahmat Mohd Yusof, Senior Manager, ASEAN Centre of Entrepreneurship (ACE), MaGIC talked about My StartUp Hub 2020, soft-landing programme for global startups to establish a business hub in Malaysia.
We also had Mr Yoann Gueguen from French Tech Malaysia giving an update on French Start-Ups in Malaysia.

Also, the testimonial from 3 French Start-Ups gave the audience a realistic outlook on the challenges and the pros and cons of setting up a business in Malaysia.
Benjamin Croc, Founder of Brior HR, an all-in-one cloud-based HR management software
Cyril Dhenaut, Founder of Elixus, a regional digital marketing agency
Mamadou Ndiaye, Founder of Appsaya, a business matching & networking platforms for B2B events & online meetings.
For those who have missed it Watch the webinar Now